Our Mission at TDC is to develop all commercial opportunities on behalf of the clan members throughout the Region to advance our key aims of providing local jobs for local people and, in the long term, ensuring every child has a chance of a full life.
Congratulations Hannah – 11 Years
Congratulations to Hannah James who recently crossed the line of eleven year's' service at TDC. Hannah joked recently, saying, when she first started and met people who had been out in Wadeye for a long time , she thought "I am never going to be one of THOSE people". Eleven years later she is still all smiles and celebrating being one of THOSE people!
For anyone who has worked in the Top Office, you will know that it can be crazy most of the time. Hannah never loses her smile or her desire to help people out, no matter how crazy it gets. Her role is wide and varied and she has supported and welcomed so many new people to Wadeye and TDC over the years and always makes everyone feel like part of the team.
Hannah's' enthusiasm and positivity is infectious, turning every crazy situation into something to have a laugh about.
From all of us at TDC, Thank You Hannah. You have helped each and every one of us at some time along the way. We are all so glad you continue to be one of THOSE people!
Story Telling with Mardu Pek Pek
The Mardu Pek Pek Community Engagement Group have been working together with Sorrell and Scott to identify the things that make people in the community feel good and bad.
The group pulled together an action plan to manage things that are not good and to do more things that are good. #peacefulspirirt#
The group also participated in some governance training and discussions around making community strong.
NRM Ranger of the Year Finalist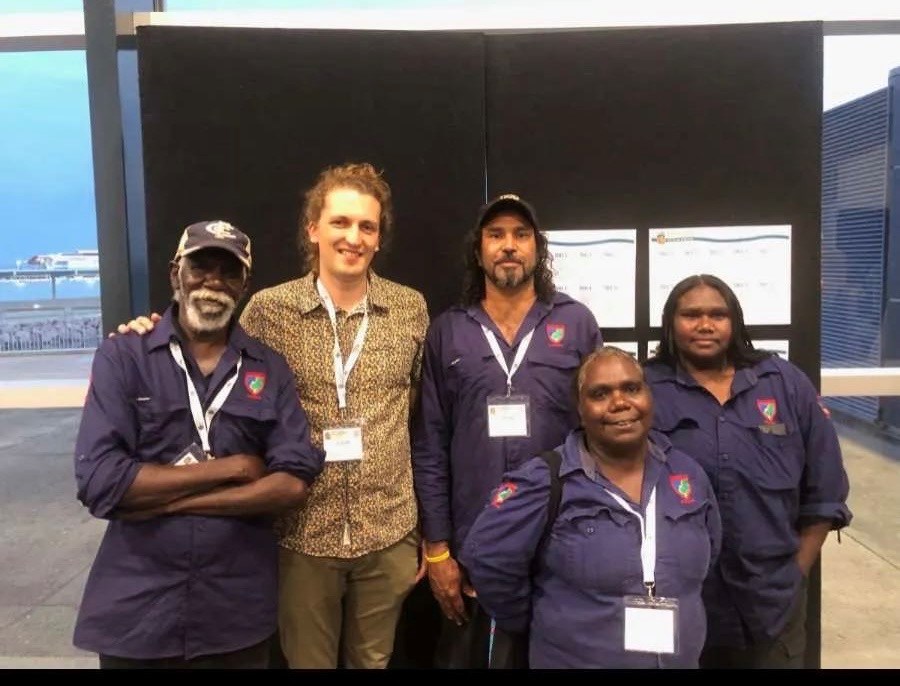 Congratulations to Uriah Crocombe who was nominated as a finalist for the 2022 Territory NRM Ranger of the Year Award and came second.
Uriah, a Senior Ranger with Thamarrur Rangers for the past 8 years has dedicated his time, knowledge, and skills as a strong leader to the ranger group.
Our Rangers headed into the conference and awards night and everyone had a great time. The winner was announced on Wednesday night and the award went to Terrah Guymala from Warddeken Land Management (pictured above with Uriah) . Congratulations to all the finalists and winners. A huge achievement for all involved.
Wadeye Meets Margaret River
Women from Wadeye, Peppiminarti, Emu Point, Wudikapilya and Merrepen all came together to head down to WA for the Colour Story exhibition at Barval Wineries in the Margaret River.
This is a very big trip for Celeste who has never been out of Wadeye before.
She is certainly looking more relaxed and much happier off the plane than on!
The women will be teaching their weaving and dying skills at workshops at the exhibition.
Youth Diversion Plant Out!
Thank you, Tom Crawley and the Youth Diversion Team, for helping out Top Office plant passion fruit around the steel structure.
Hopefully we will have some delicious purple passionfruit to eat soon!
Welcome to Healthy Homes Amy
Welcome Amy to the TDC Healthy Homes crew. Amy joined us this week as the new Healthy Homes Cleaning Supervisor and has enjoyed getting out in the community and seeing what TDC is all about.
Amy is very enthusiastic, and we are excited to have her join the team.
The Cleaning/Laundry team will be coordinating with the yard crew and the community engagement team by appointment only, so please ensure that any referrals are sent through via the healthy home's referral form.
Men's Shed – Wadeye, Traditional Art Works go International
An assortment of Boomerangs have been completed and are on their way to Italy.
A Brisbane man heard about the work being made here and called up asking for a 'package' so he could take them home to Italy as Christmas gifts to his family.
It is great to see the talented artists of Wadeye getting worldwide recognition.
ENI Gas Mob Recycling
The ENI Gas plant mob dropped off a load of recycling this week and caught with the Rangers. #GreatWork#
Meditation Training to Support Mardu Pek Pek
Scott McIntyre recently spent a week in mediation training to build skills to assist with mediation in community.
Finding people who understand the cultural and community landscape and can navigate the language is tricky, so building internal capacity to support mediation is a positive step.
Village Weekly Specials
The Village Kitchen has been serving up some delicious weekly specials. Lamb Shanks and Wadeye Kentucky Fried Chicken have been the flavor of November. If you haven't tried the new dishes, get down there, they are divine!