Our Mission at TDC is to develop all commercial opportunities on behalf of the clan members throughout the Region to advance our key aims of providing local jobs for local people and, in the long term, ensuring every child has a chance of a full life.
Important Message From the Rangers – RESPECT OUR LAND
We the Rangers are asking for everyone to not leave their rubbish along the beaches. Please pick up any rubbish you make and take it back with you and dispose of it in the rubbish pit.
Also, to the non-indigenous residents of Wadeye, we are asking you all to not leave your empty beer stubbies or cans anywhere on traditional land. We ask that you respect the land you drive and hunt on! So please take your empty alcohol cans and stubbies back with you and dispose of it in the rubbish pit.
The Rangers have been working hard collecting marine debris along Kuy Beach and are very disappointed that they are finding so much recreational rubbish.
TDC employees are reminded that it is a condition of your employment to respect the wishes of Traditional Owners in relation to recreational activities on country, and leaving rubbish is NOT ok!
Wet Weather Creates Havoc for Operation Tarn
NT Police, Murin and TDC Darwin Mob all pitched in to keep Operation Tarn rolling along.
The aim of the operation is to get displaced and vulnerable people off the streets and out of the long-grass in Darwin and back home.
TDC Darwin mob did pickups and attended overcrowded houses and known long grass hot spots to encourage people to go home.
The weather created havoc as planes were cancelled and people were left waiting at the airport for hours. Flights were re-scheduled and the bus filled up. Thanks to Murin for all of their support in helping to make this happen.
Men Celebrating Mateship in 2022
The International Men's Day Forum, held in Darwin, is the largest gathering of men in the Northern Territory. It brings Territory men together to talk about issues that affect them, and identify solutions.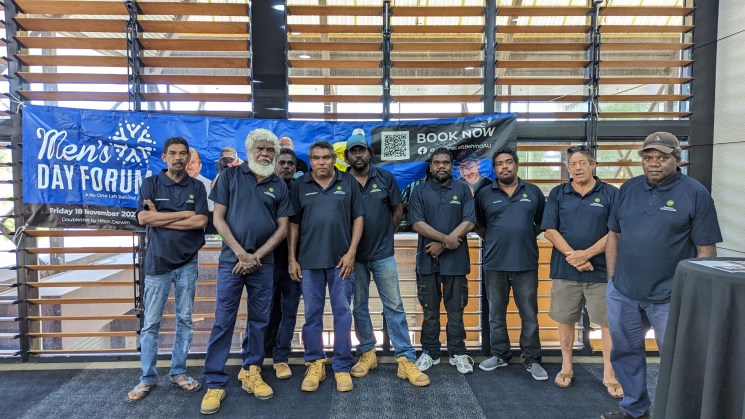 This years even will bring together 250 Territory men aged 16-80+ to attend from a range of diverse cultures and industries. The theme for 2022 is Mateship and discussions will center around suicide prevention, leadership, alcoholism, remote engagement, financial support and family matters.
TDC will be well represented with the Men from the Wadeye Men's shed and Emu Point attending, sponsored by CDP. The fellas dropped into the Darwin Office and had pizza for lunch before heading off to their accommodation. It was great to see the fellas in such high spirits.
Aged Care Gets a Makeover
It has been a busy few weeks in Aged Care. We have been busy preparing for Audit which was expected to be held 15/16/17 November, however due to bad weather they were unable to fly from Darwin, and unfortunately had to cancel their trip.
Our Bedrooms doors have had a paint makeover, nice and bright to assist in wayfinding for cognitive impaired consumers. We have also recently signed up two new community consumers who are enjoying being involved at aged care.
A remind that if anyone in the community knows of any elder that may benefit from Aged Care Services, please reach out!
Tourism in Thamarrurr Region
Watjan Tours is a Tourism bush camp, 13 years in the making. Joe Parry & Lucy Carlingun of Wudikapildyerr have just finished their first season of operation; they were very pleased with the significant number of school groups that visited, camped and explored indigenous culture.
CDP was please to visit the campsite this week, introducing Joe & Lucy to Rob Wood, owner/operator of Ethical Adventures. Rob markets to a small group of international tourists and will be including an indigenous immersion tour in their suite of activities in 2023, with 2 – 3 days spent with Watjan Tours & Basecamp.
With strong group bookings already in place for 2023, Joe & Lucy are looking for staff to learn the skill of tour guiding and sharing their indigenous culture. If you are interested in working with Watjan Tours, please contact the CDP Wadeye Office for more information.
Berida Family Trip on Country
TDC Homelands Coordinator, Adrian Marshall, took the Berida families to their homelands at Ndirri recently. The purpose of the trip was to do some work on identifying water supply and assessing the state of the airstrip.
They took time out to enjoy and connect to their traditional lands, particularly the three children, John, David and Marie. The trip out and back was made more enjoyable with the vast suite of wild life encountered which greatly excited the children. Wildlife encountered were; Buffalo, Pigs, large herds of horses, wallaby's, dingos, brolgas, and cattle. Thanks Adrian.
Welcome Back Augustine
Welcome Back Augustine. Augustine spent the mornings running the OrangeSky laundry truck alongside the community engagement team this week. It is great to see the service up and running again. Thanks Augustine!
Lenny's Landscaping
Lenny Dumoo has been busy landscaping around the village, making use of all the mulch from the recent tree trimmings across Wadeye, it looks awesome.