Our Mission at TDC is to develop all commercial opportunities on behalf of the clan members throughout the Region to advance our key aims of providing local jobs for local people and, in the long term, ensuring every child has a chance of a full life.
Rangers Clean Up Cape Scott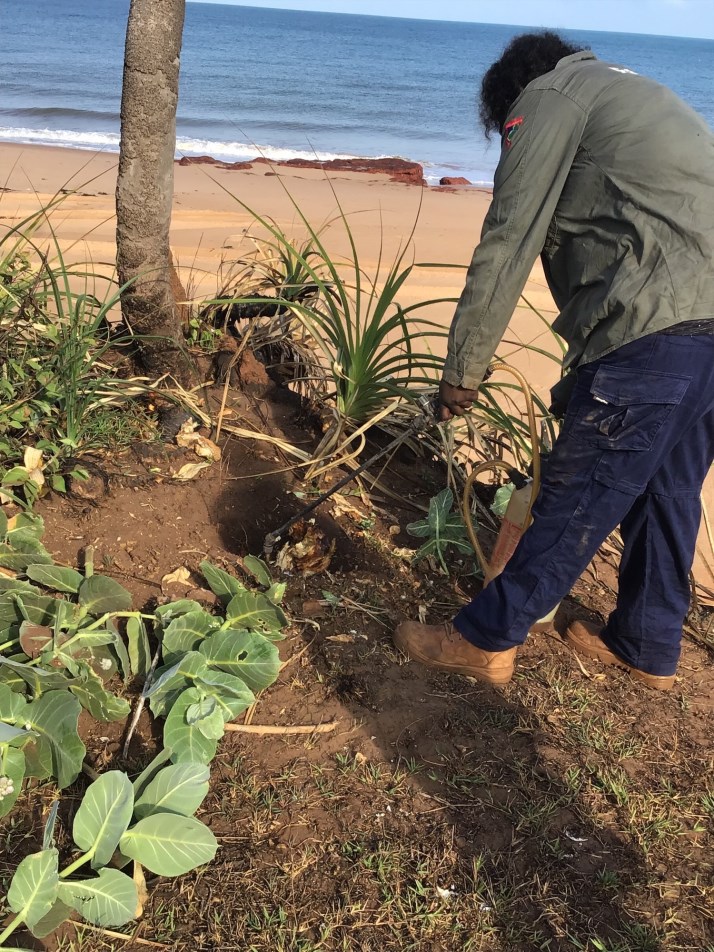 The ranger ladies have been working on country this week, clearing off Rubber Bush on the coast of Cape Scott.
Rubber bush, (Calotropis procera), is an invasive species and is a declared weed in accordance with the Weeds Management Act.
Invasive weeds can displace and threaten native species and adversely alter ecosystems. Thank you to Kimberly Sam's all the Rangers, for getting out and doing this important work to help preserve our natural ecosystems.
COVID Contained in Aged Care
The Aged Care nursing team were able to contain the spread of COVID, and our 3 infected residents were able to come out of isolation on Monday morning. Aged Care is now back to normal opening hours to the community. Visitors need to obtain RAT testing before entering facility and wear a mask when inside facility. A massive thank you to Taryn and all the hard-working Aged Care team who work around the clock to care for our community's elders.
Farewell Margo
The women in Wadeye said a big and tearful farewell to Margo Northey from NIAA this week. Margo has been an amazing support to the women in community and sharing her wealth of knowledge with our team based in Wadeye. Margo has a long history with the community and boundless energy to get things done, and we hope to see her back in the future.
Palumpa School Holiday Program
Palumpa has been aiming to please all ages, with School holidays happening, the kids are trying a range of craft activities and learning new skills with their parents.
A big thanks to all the CDP Team who are working hard to deliver interesting activities and keep the young people active and busy during school holidays.
Welcome And Farewell
The last day of September brought mixed emotions to the TDC Finance Department with the farewell of Debbie Breukers-Jackson and welcome to the newest addition to the TDC family, Aarthi Nirmal Bruce's daughter, Eshana, born 30 August 2022 weighing in at 3.080kg.
Debbie has been with TDC in Wadeye and Darwin offices for 6.5 years. We will miss her helpful advice, the depth of corporate memory, caring nature and her broad knowledge of Wadeye and NT.
Finance manager, Roshan gave a heartfelt speech of appreciation for the significant workloads Debbie has carried recently and her uplifting encouragement to everyone in the team.
The finance team prepared for Debs last day by brightening up her workspace with balloons, native flower arrangement, chair and desk sprinkles and confetti and matching glasses. Staff wrote messages on the balloons for Debbie.
We wish you all the best in your future.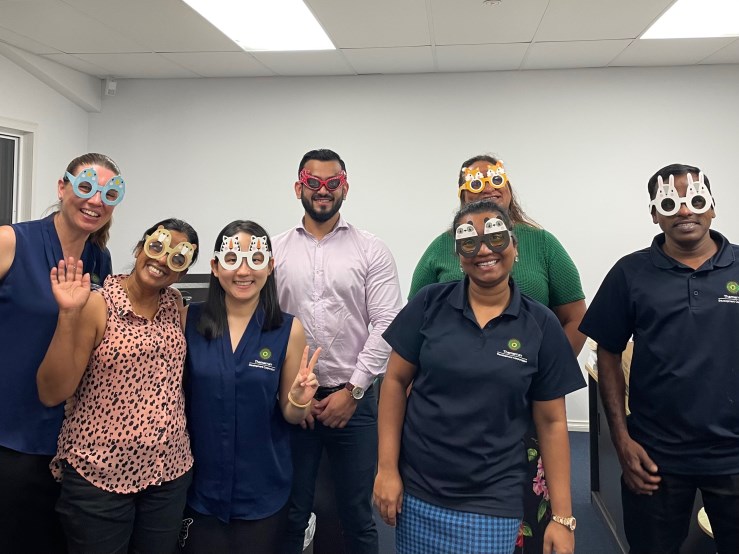 Broadcasting is Back
Martina Kinthari is back in the broadcasting box, kicking off the local Wadeye local radio station 106.1.
Local radio broadcasting has been in a hiatus since the unrest started in April, as Martina and her family were displaced during the violence.
We are all happy to see broadcasting up and running again. Radio is an integral communication tool and broadcasting in Murrinhpatha helps get key messages out to community.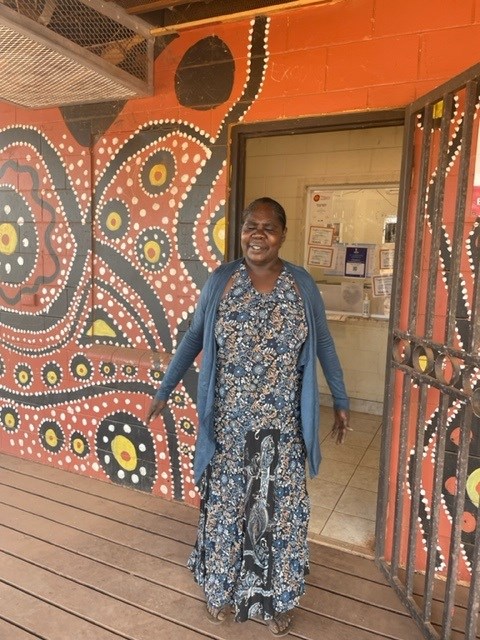 Mental Health Support
Next week, Ian Howell (Social Worker) pictured left, and Sophie Firmin (Counsellor) will be coming to Wadeye for three days to be available for our team to talk to. We recognize that the prolonged crime spree and impacts from the unrest are taking their toll on our team and resilience levels are low. They will be popping around to the work sites over the 3 days. Please take the opportunity to have a chat to Ian or Sophie while they are here. All conversations are confidential and anything you share with the counsellors is private and not shared with anyone else. Some of our team may have met Ian previously when he came to Wadeye when we lost one of our team members in a boating tragedy last year.
Break Ins Continue to Wreak Havoc
There were heartbreaking scenes at Da Ngimalmin as they experienced their fifth break in in four weeks.
The NDIS office and Heathy Homes Resource Shed also got hit this week, and staff once again thrown into chaos as organize the cleanup and repairs.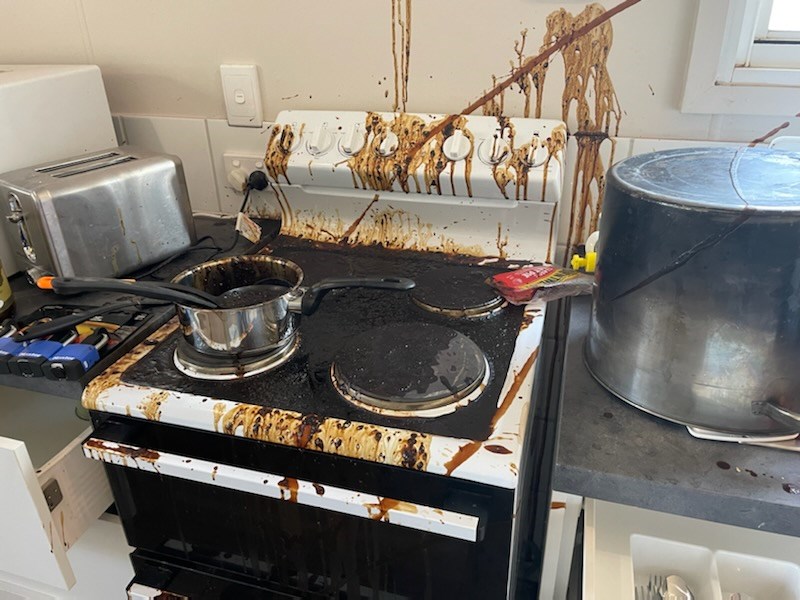 It is becoming increasingly difficult to focus on aspirational progress and even core business, when our team is constantly dealing with the impacts of crime in community. A massive shout out to the H&C team who have been constantly quick to respond to securing and repairing premise damage.
Healthy Homes Cyclone Prep
The healthy Homes Team have been busy doing yard maintenance in preparation for cyclone season.
The team have also been enjoying trips out to collect firewood. There is plenty of work to be done in preparation for cyclone season, so if you know people who are looking for work, send them down to the health homes shed.