Our Mission at TDC is to develop all commercial opportunities on behalf of the clan members throughout the Region to advance our key aims of providing local jobs for local people and, in the long term, ensuring every child has a chance of a full life.
Kakadu Plum Beauty Products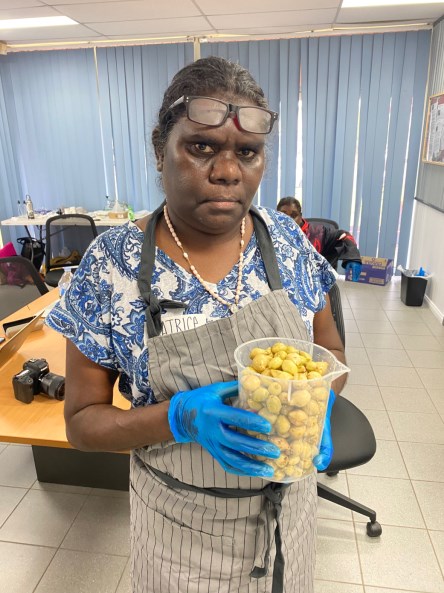 TDC is supporting the aspirations of the local women and has entered into a business partnership with a cosmetics business, RarePharm, to jointly produce and market a Kakadu Plum extract for the cosmetics industry.
This builds on discussion with community members about the Kakadu Plum business where Traditional Owners said they want to be involved in the business in more ways.
Anastasia Carlton, Beatrice Tcherna, Naomi Tcherna and Carla Nicolas came from Wadeye to the Winnellie office for a week to make the extract with RarePharm. Around 50 L of extract was produced. The extract is being tested by Southern Cross University, for Vitamin content and microbes.
The extract will be sent to cosmetic manufactures in Australia and overseas. Since the workshop we have met with several suppliers in the cosmetic industry who are interested in buying or selling the product.
We are hoping this will lead to an opportunity for Wadeye ladies to be involved in extract manufacture several times a year and be involved in marketing with opportunities such as travelling to trade shows.
The Kakadu Plum has the highest Vitamin C content of any known plant and has 100 times the Vitamin C content than an orange!
This is a very exciting development for the local plum industry. A huge thanks to Chris Brady for making this happen.