Our Mission at TDC is to develop all commercial opportunities on behalf of the clan members throughout the Region to advance our key aims of providing local jobs for local people and, in the long term, ensuring every child has a chance of a full life.
Strong Men Yard Maintenance
Does your work site need a tidy up ?
The CDP Strong Men Team can do just about anything in the yard. Mowing , Whipper Snipping , Pruning , General Garden Clean Up ; Plant & Rubbish Removal. To put in a request and / or to get a quote , click on Healthy Homes.
Sister Buffalo Sewing Classes
Lou and Gaby from Sister Buffalo were in town this week, working with the ladies in the Women's Centre to sew clothes and other items.
The ladies absolutely loved making their own skirts and had a great few days working together on projects.
Sandra and Celesta were happy making funeral shirts. A big thanks to Kylie for running the women's centre this week and CDP for organising Sister Buffalo.
Marda Pek Pek Community Mob
The Marda Pek Pek team have been working on a plan for the cultural centre area to provide a safe space for community to come together.
They have also been doing their own community night patrol in the main street to help combat the relentless number of break-ins.
The photo is of the group getting ready for their first night patrol. It is hoped that with increased presence and more local participation , the young people will be deterred from senseless and destructive night activity.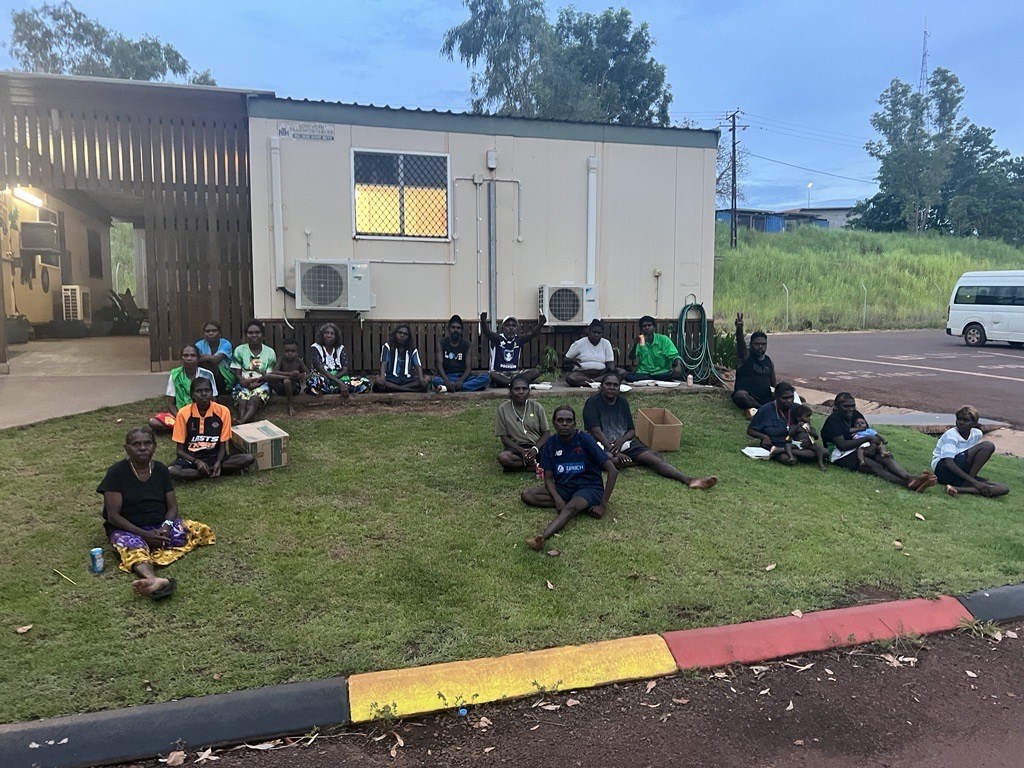 Darwin Mob in Wadeye
Members of the Darwin Team came out to Wadeye this week. It was great to see the team out in community.
Savannah Fire Management
The Western Top End Savanna Fire Management (WTE SFM) project has been issued its first ACCUs (Australian Carbon Credit Units) for the years 2020 and 2021. These will be held on-to for now, with any profits made from sales in future years invested straight back into the project.
The last few weeks Louis and the rang-ers started consultations on fire plans for the Thamarrurr region, meeting with TOs around town to discuss fire-breaks for outstations and infrastructure, ground burning & aerial burning.
Some of the rangers attended the Northern Australia Savanna Fire Man-agement conference at CDU this week , to speak with other rangers about fire management on country and share their experiences of last year's fire season.
The conference featured presentations from over 30 Indigenous ranger groups, as well as presentations about biocultural knowledge, monitoring biodiversity impacts, carbon market opportunities, environmental market opportunities and the health impacts of smoke from fire.
Louis is leaving the project this week but Pete and Mahala will continue working closely with TOs and rangers in the Thamarrurr region, Nganambala, Wudicupildiyerr and Peppimenarti to ensure a successful fire season in 2023.
We wish Louis all the vey best in his future endeavours.
Orange Sky Supporting Families
The Orange Sky Truck is back to its normal schedule, weather pending.
• Monday Manthape
• Tuesday Nilinh
• Wednesday Chicken Oval
• Thursday Bottom Camp
• Friday Creek Camp
There is a back log of referrals due to the rain but you can put a referral through on the link Book Orange Sky
A big thanks to Cindy and the team for supporting our community with laundry cleaning. The Orange Sky program in Wadeye is funded by the Stronger Communities for Children.
Strong Women, Strong Culture
The women from Da Ngimalmin and the Yellow Shirts got together with the young girls from Thamarrurr Youth, to cook lunch and yarn and make posters.
The women get together every Wednesday at Da Ngimalmin and share knowledge and skills including weaving , dyeing and other cultural know-how with the younger ones.
Housing Team Kicking Goals
The TDC housing and construction team have refurbished 95 community houses this year. There are another 30 refurbs in the works alongside new builds. Drive ways are starting to be installed on the new builds, getting close for hand overs.
Improving living conditions in the com-munity is a high priority so this is a massive achievement! Huge thanks to the H&C Team who work tirelessly un-der tough conditions.
The TDC tradesman and contractors did an evacuation drill first thing in the morning in the rain. It is awesome to see so many skilled people working and sharing their trade skills in community. We are very lucky to have such a great team of people working with community.
Raphael Alliung ( above ) from the Rak Tjindi clan has worked in TDC's Housing and Construction team for over 9 years. Great work Ralph !
The team have also been busy putting up 1800 mm fences around the new houses in the Nilinh subdivision.