Our Mission at TDC is to develop all commercial opportunities on behalf of the clan members throughout the Region to advance our key aims of providing local jobs for local people and, in the long term, ensuring every child has a chance of a full life.
Local Service Delivery Meetings
Aneurin Townsend (Ironman) coordinated the monthly service providers meeting to be held at community locations this month, so that locals had the opportunity to raise questions about service delivery.
The main items of discussion were around the clinic and health services, policing and increasing school attendance numbers.
Thanks to Ironman for coordinating these meetings, and to all the service delivery providers for participating. The meetings were all well attended and lots of constructive discussions took place.
The service delivery meetings happen the first Tuesday of every month at the boarding house, and everybody is welcome to have input into the meetings.
Coming Together To Work As One People
Thamarrurr is derived from the local Murinhpatha language and means, 'coming together to work as one people'.
It reflects the ceremonial and traditional foundations of the region's people.
Over the next few months there is going to be a lot of focus on engagement, mediation and bringing people together, and we will be promoting 'coming together to work as one people' as our mantra.
To help promote this, we will have new shirts displaying the motto on the back.
These will be available to all our team who are demonstrating and promoting working together as one person.
We will let you know when they arrive. Please place your orders with @stephaniesui
Housing & Construction #Boom#
H&C have now completed 36 refurbishments out of a total of 125, plus multiple roof replacements.
There are currently 14 dwellings underway, and the race is on to get the refurbs and repairs completed before the wet season.
The Nillin Two subdivision is taking shape with 2 houses and 2 duplex new builds erected. A total of 17 new houses will be built in Nillin Two. If any Kardu Men or Women want to work in our Construction or Tenancy spaces, we have plenty of roles available so please see CDP. #JOBS#JOBS#JOBS#
Rangers Collect DNA For Science
The Rangers travelled 395km, 4 hours each way over rough seas, collecting water samples for DNA testing for evidence of Sharks, Sawfish, and Stingray for the Australian Institute Marine Science (AIMS) from the Fitzmaurice River.
The Fitzmaurice River is Southeast of Wadeye and North of Timber Creek.
Marine animals such as whales and sharks shed their DNA into the seawater via their skin, mucus, faeces, blood, and sperm, and the DNA is used to monitor the presence of certain species.
The Rangers are involved in a new project to collect this DNA in addition to the other ongoing drop camera surveys on and around Emu Reef with AIMS. #AwesomeWorkRangers#
Kigay Lurruthngala (Strong Young Men)
The Youth Diversion and Early Intervention Teams have been doing a wide range of activities including gardening, making vegetable gardens for local people in the community and encouraging people to grow their own vegetables and fruits.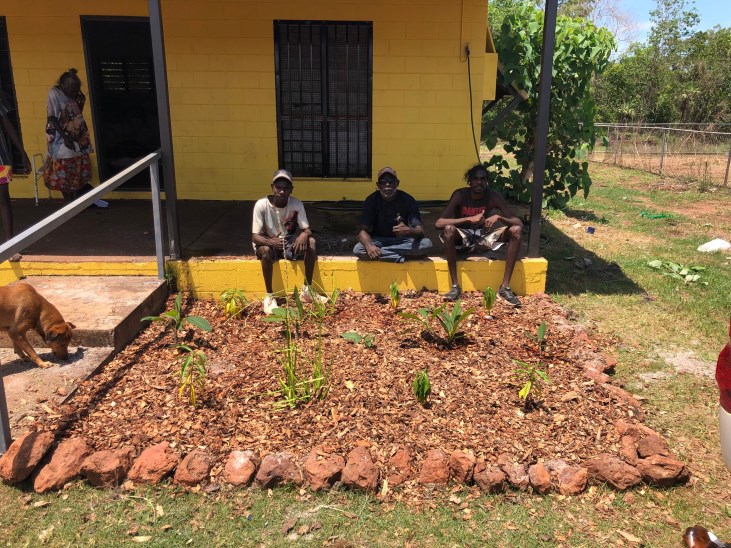 They have been welding and building their skills making BBQ's and tables down at the Resource Centre a couple of times a week.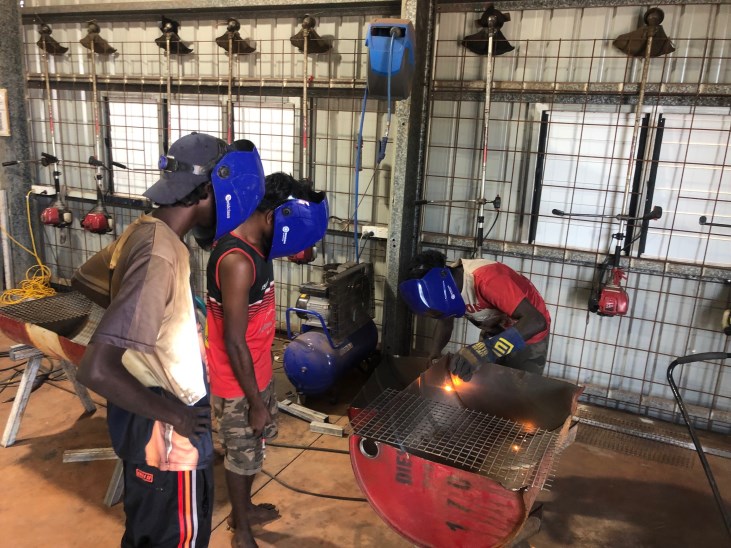 The boys do sport (football and basketball) twice a week and have been getting really good numbers. They will be having their first scratch match next week.
Along with all the usual stuff of weekly gym sessions and yard maintenance, everyone is keeping very busy, practicing healthy living and learning new skills.
There are basketball games down at the court every Wednesday night at 5PM and everybody is welcome to come along and have a go.
Kigay Lurruthngala (Strong Young Men) continued…
The Strong Young men have been doing weekly cooking classes and now Norman and a few of the early intervention boys have started a pizza business running twice a week from 6-9:30pm. Tom Crawley has been assisting them for the last two weeks and will continue to help until they get a good grasp on how to handle the money and allocate it for the costs of ingredients etc.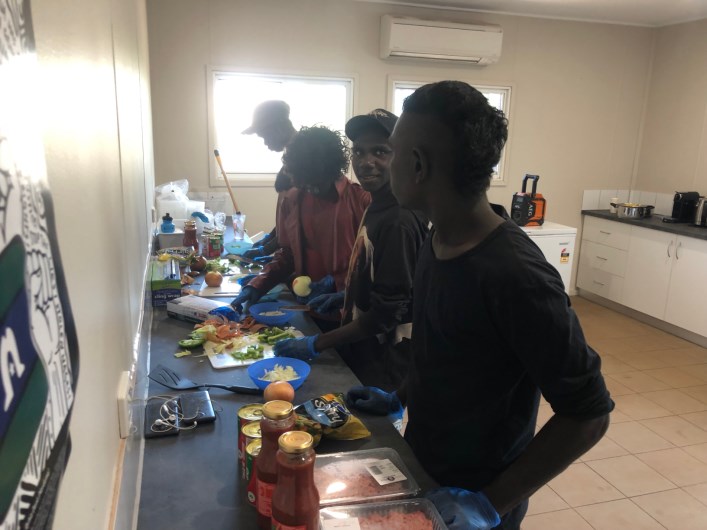 There have been lots of healthy cook ups and the whole family gets involved!
The team will be doing an excavator course that will be running from the 21st-23rd November, which they will use to build and maintain the mountain bike tracks.
Four of the early intervention crew have started full-time work in the community, two at 100-man camp and two at housing, and one of the youth diversion boys will be starting work soon.
Reports from their new bosses are that they are some of the best workers they've had. #GreatWork#