Our Mission at TDC is to develop all commercial opportunities on behalf of the clan members throughout the Region to advance our key aims of providing local jobs for local people and, in the long term, ensuring every child has a chance of a full life.
Men's Shed Creative Talent 2023
David Dumoo, Timothy Dumoo, Raymond Parmbuck, Robin Nilco and Patrick Namala have all been busy in the Men's shed, painting some stunning pieces of work.
There will be an increased focus on supporting the artists to get their products to market.
We are looking forward to taking the artists to Barunga festival again this year.
Manthape Strong Men's Team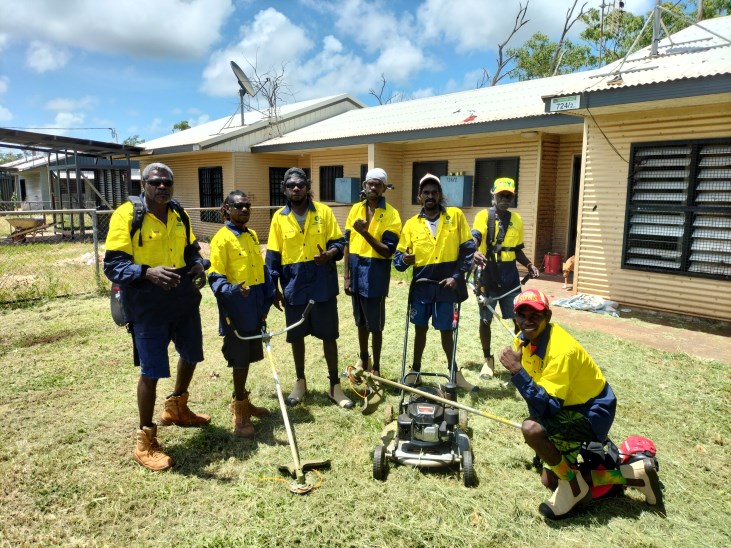 The Manathape Strong Men's Team have been busy running the Healthy Homes program at Manthape and were all excited to get their new boots and shirts this week.
The team has been working hard to tackle the fast-growing grass around the community.
A big thanks to Jordan for getting this up and running. Jordan will be leaving TDC soon but will be staying on in community. We wish Jordan all the best for the future.
Caring For Our Seniors
The Aged Care team have been doing a wonderful job of caring for our Seniors in the community.
Mischa has been busy dropping off gift hampers.
Thank you to the Aged Care team who work hard to improve the quality of life for our elderly.
H&C Refurbs Pumping Along
The H&C team have been under the pump, simultaneously working on new builds, refurbs and responding to break ins.
The team are doing their best to meet tough timelines, constantly getting dragged off jobs to respond to break ins but are still aiming for a March completion.
Ladies Broadening Their Horizons
Margaert Perdjert, Mary Munar, Veronica Munar, Geraldine Bunduck, Lauren Bitting and Amaya Chula all headed off to India this week, to commence their commercial textile manufacturing studies in India.
The women have all settled into their new life and studies, albeit some home sickness kicking in. Margaret is enjoying the peace and quiet and feeling very relaxed, as is supporting the younger ones who are a bit homesick.
The University chefs have de-spiced the food, much to the dismay of the Chefs who are struggling with serving up their dishes so bland!
Amaya (left) is enjoying the experience.
The women are undertaking a pilot program studying textile manufacturing, and the men will be following on with automotive studies later in the year. The program has been organized by Thamarrurr Youth. We wish all the ladies all the very best.
Centurian University Study Tour
Lynne and Tracey headed to India to support the women and to investigate the opportunities that an exchange partnership with Centurian University may offer.
The University has been established to skill people from tribal villages and offers a wide range of education options to people from all over the world, catering to students with low levels of literacy and numeracy, as well as English as a second language.
The university has an amazing range of study options and facilities, funded by industry and government. We had a tour of both campuses and took a particular interest in the automotive training facility.
We are having discussions with the Chancellor of the University and the Australian Consulate to explore opportunities for automotive graduates to come to Wadeye to put their skills into practice.
We have been very busy on this whirlwind tour, looking at how the university delivers training to students from low socio-demographic backgrounds and how this training methodology can be replicated in Wadeye.
Block Printing and Fabric Dyeing
While in India, we were lucky enough to go on a block printing and fabric dyeing village tour in Bagru, near Jaidpur.
The whole village plays a part in production, with the different clans / family groups owning the various stages of production.
The whole process from bleaching, to dying, to block printing, to drying, was all undertaken in very rudimentary conditions, and the fabrics were stunning.
The fabrics are laid out on the dirt with a mud resistant coating.
The hand carved wooden blocks used for block printing were very intricate.
The block printers work on big tables in production areas that are very similar to the women's Centre.
We will be getting some block samples sent back to show the artists in community, and hope to share and transfer some of the things we learned on our trip away.