Our Mission at TDC is to develop all commercial opportunities on behalf of the clan members throughout the Region to advance our key aims of providing local jobs for local people and, in the long term, ensuring every child has a chance of a full life.
TDC Workshop Keeping The Wheels Turning in Wadeye
We could not survive without our unsung heroes in the workshop who have been absolutely run off their feet with the ongoing spate of car theft and damage across the community.
The current situation is worsened by short staffing, as the team grapple with extremely high workloads and reduced staff numbers. We all extend our thanks to Marc, Lewis and Willard for all the hard work in keeping the wheels of Wadeye turning.
Margo Napier is also working hard in the background, getting TDC endorsed as a Designated Area Representative, to get a Designated Area Migration Agreement (DAMA) in place to be able to recruit diesel mechanics from overseas. Thank you, Margo.
Blessings At the Aged Care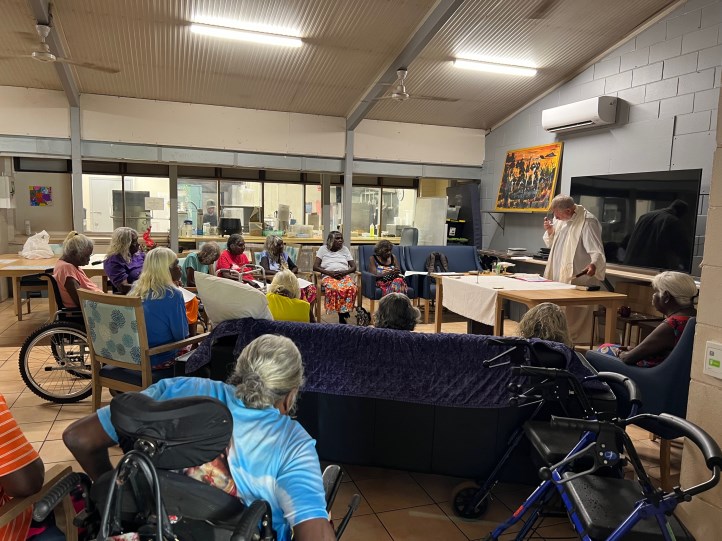 Father Leo performed a Mass at the Aged Care Centre. on Thursday which was well attended and appreciated by all.
Men's Shed Leading By Example
This perfectly clean landscape is the result of the TDC staff at Men's Shed leading the way by cleaning up the rubbish. It's our workplace and coordinator Rob Walsh believes it reflects upon us as people, accepting the way it is with trash everywhere if we choose to do NOTHING.
The team spent 20 minutes in the afternoon collecting rubbish and the result was awesome. This will be a daily thing now and our hope is to encourage our members at the Shed to join us and it becomes contagious. Join in and see what you can pick up at your workplace. One box of trash at a time.
Impromptu Meeting of Ceremonial Group Reps
Scott McIntyre is back from leave and is spending his time engaging with people across the community to identify ways to support community to get the current crime situation under control.
As luck would have it, we had representatives from each of the ceremonial groups Wangka, Tjanpa, Lirrga and Wurrdjidi drop into Top Office for a cuppa at the same time, which provided an excellent opportunity to have an impromptu meeting that captured the views of all groups.
Scott and TO Board Members will be out and about next week, hosting BBQ's, getting the Orange Sky truck back out and about and talking to people in community.
It will be great to see the orange truck out and about again. Thanks to Scott and the TO's for getting this happening.
Men's Shed Propagation Project
Joseph has taken ownership of a project to propagate seeds to be transplanted into the Men's Shed new entry and he manages the seed banks daily.
We have established a mini nursery in a section at the back of the shed. We also used some of the pallets laying around to build a compost heap.
Next job is to grab a variety of colored plants to be used in the planter at the front of the women's Centre.
It is great to see the Men's shed looking so good, and to see everyone outside in the garden.
The Men's shed is an initiative to improve the health and well-being of men in the community. The community has identified that by improving outcomes for men, there is an improved outcome for children, women, and interconnected families. Thanks to Rob, Joseph, Pete and all the Men at Men Shed.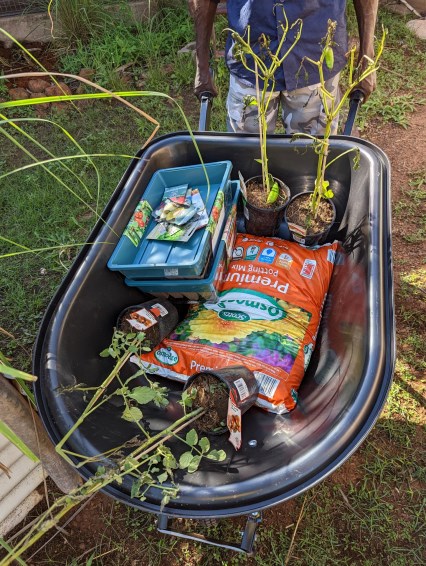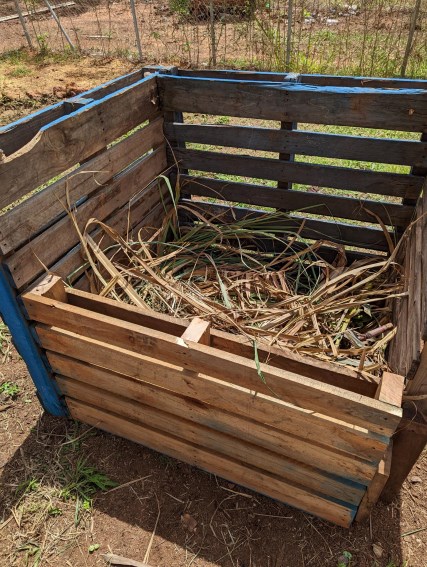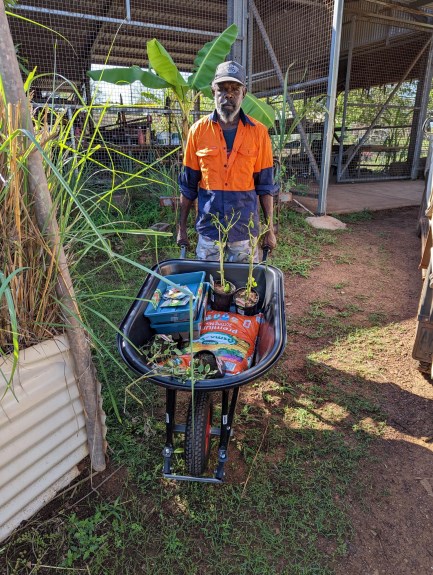 Kakadu Plum Traceability
Bridget Bunduck, Merle Bunduck and Chris Brady travelled to Broome for a North Australia Aboriginal Kakadu Plum Alliance (NAAKPA) seminar on traceability of Kakadu Plum and the potential for an Indigenous Certification trademark.
Scientists from the Australian Nuclear Science and Technology Organisation (ANSTO) explained how they have developed technology to be able to tell if the MI Marral is from Wadeye (or from other Aboriginal plum producers involved in the project) in a finished product claiming to contain Kakadu Plum. This helps identify if false claims are being made about products being sold.
ANSTO's nuclear analytical techniques have been used to ensure that traditional Aboriginal products are authenticated as part of a new project in partnership with (NAAKAPA).
While in Broome we took the opportunity to visit a Gubinge (Kakadu Plum) plantation established by the Mamabulanjin Aboriginal Corporation.
A big thanks to Chris Brady, Bridget Bunduck and merle Bunduck for their work on the plum project.
Wadeye's Artistic Talent
Celesta Minjin has been painting this amazingly detailed piece of art in the Women's Centre this week and it is stunning.
Alan Parmbuk (below) created this beautiful turtle piece in the Men's Shed recently. The attention to detail is awesome and highlights the patience of the artist.
Anthony Nemarluk produced this beautiful painting, people of all colors (below). The detail showing all the different skin shades and various tribal skin paints is brilliant. It is great to see so much artistic talent in Wadeye.