Our Mission at TDC is to develop all commercial opportunities on behalf of the clan members throughout the Region to advance our key aims of providing local jobs for local people and, in the long term, ensuring every child has a chance of a full life.
Happy to Be Going Back Home
TDC & DIPL, have been working hard to repair the damaged houses and get families back into their homes.
Out of the 125 homes that were damaged, 40 homes have been repaired.
Clifford Gilbert and Geraldine Kinthari, and their family are so happy to be back home in their brightly painted house. Clifford has been struggling to participate in work while being displaced from his home. Clifford is happy he can start working full-time again. "I want to be a good role model for my kids by going to work, when I finished school, I started working straight away and I want the same for my kids". #GREAT WORK H&C#
Wet Weather Road Conditions
A reminder that tracks are getting wet and boggy, and it is important to drive to the conditions of the road. Remember if going off road, 1) lock your front hubs, 2) engage low range and 3) do not dig a big hole.
Coming Together in Jingili
TDC , Team Health , Territory Housing , NT Police, Larrakia Nation and Darwin City Council all joined forces to support the coming together of people who have been displaced in Darwin.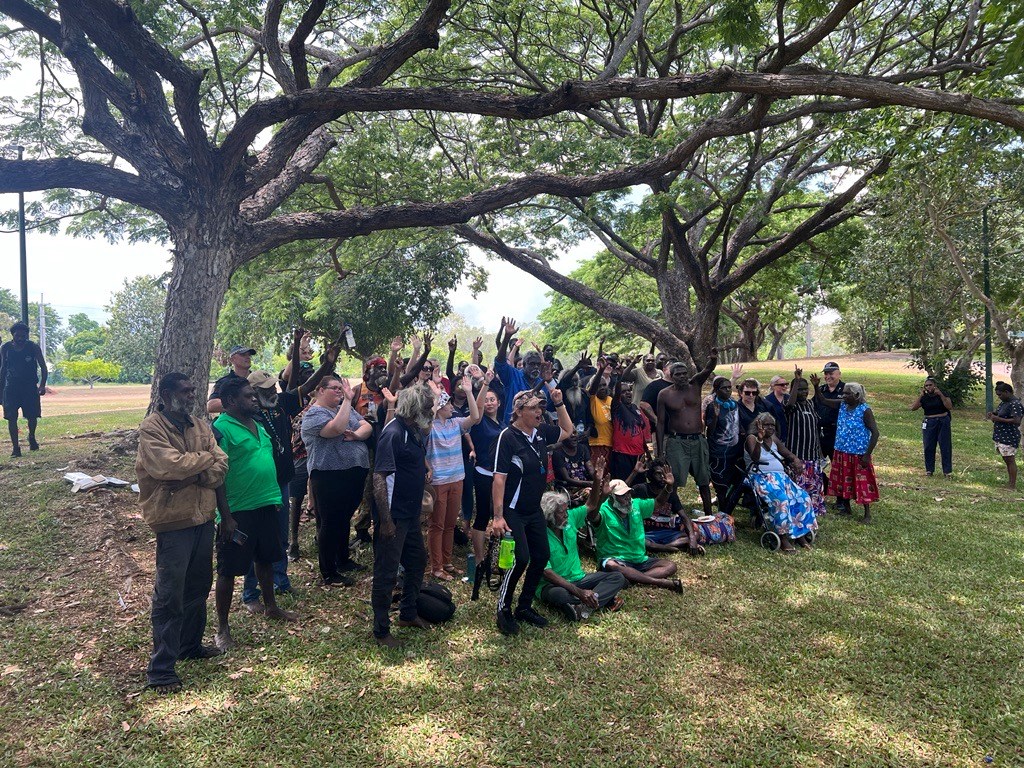 TDC Darwin team headed to Jingili Water Gardens for an all-hands-on deck effort cooking the BBQ, and serving lunch while the locals and service providers had a yarn about the impediments to going home.
The aim of the gathering was to talk about Marda Pek Pek and what the community mob need to do to be strong and peaceful again. Thanks to all our Darwin Team for their efforts on the day. #GoTeamTDC#
Aquaculture Project Exploration
Tobias, Alloi & Sophie visited Darwin Aquaculture Centre (DAC) this week and toured the larval rearing facility and hatchery to discuss doing an aquaculture grow out project in Wadeye in 2023.
Given the proximity to pristine and variable water types, there is a real potential for aquaculture in Wadeye.
We also had a look at the barramundi brood stock and got pretty excited at seeing a rare golden barra. Aloi peeked down the microscope to see the tiny oyster larvae.
Yidiyi (Wadeye) – Music and Sports Day
Murinbata Tribal Development (MTD) / Murinhpatha Nimmipa Store organised a music and sports festival in Wadeye last weekend, and it was a fantastic day and night for all those that attended. MTD pulled all the community stakeholders together to help make the event a success.
The day kicked off with AFL matches for all ages and the participation was awesome. Jy Farra from Gold Coast Suns and Shane McAdam from Adelaide Crows lead the footy activities as well as our local football legends, Birrigan Young and Aneurin Townsend.
The local dancers welcomed everybody to the event and bands performed at a concert that went well into the night.
The concert featured Chooky Dancers, J-Milla and Saltwater Band. Congratulations and thanks to Jake and MTD and everyone involved for all their efforts to make this happen.
Weavers Heading Off To WA
CDP headed out for a catch up at Merrepan and were introduced to the beautiful woven creations of Margaret, pictured here with Mandy Grove and Lynne. These ladies will be travelling with CDP to the Margaret River to support the opening of the Thamarrurr Homelands "The Colour Story" Art Exhibition, opening on the 25th of November at Mr Barval Fine Wines. Our thanks to Kellie & Rob Gherardi (Wife & Winemaker) for their ongoing support of the amazing art and artists from our region.
Exploring New Activity Ideas
Lynne, Tracey & Carla met with the Wadeye Women's Centre ladies for a yarn on what they enjoy and would like to see included in the CDP activity offering.
The top request was for weaving and the ladies will soon be heading out to gather sand palms, pandanus and color to get started.
The expert weavers are happy to teach their skills and share stories with the young women.
The young women of Thamarrurr Youth have expressed an interest in learning skills & stories.
It is great to see the cross collaboration between TDC and other local organizations. #TeamWorkMakesTheDreamWork#
Textile Skills Development
It has been a busy week for CDP with new activities kicking off, driven by the feedback from our CDP community around what skills are needed to support their goals.
We welcomed Sister Buffalo (sisters Lou & Gabby) to Wudikalpidyerr & Wadeye where they introduced the ladies the basics of sewing. A couple of very productive days with all "sewers" completing a few items including baby clothes, skirts, bags and cushion covers. These workshops provide the ladies with skills to mend & create clothing for their families, with the end goal of participation in a larger commercial textile project.
Digital Literacy Training
Our thanks to OLSH for the support of their IT expert Daniel, and the digital space they provided, the perfect place for our Digital Computer skills training, provided by Lynne from Webnoise. Participants gained skills in computer use to complement and upskill their current employment or grow skills to assist in gaining employment.