Our Mission at TDC is to develop all commercial opportunities on behalf of the clan members throughout the Region to advance our key aims of providing local jobs for local people and, in the long term, ensuring every child has a chance of a full life.
Sharing Cultural Experiences
The Men's Shed and Yellow Shirts teamed up to do some cultural learning in the form of didgeridoo collection and processing.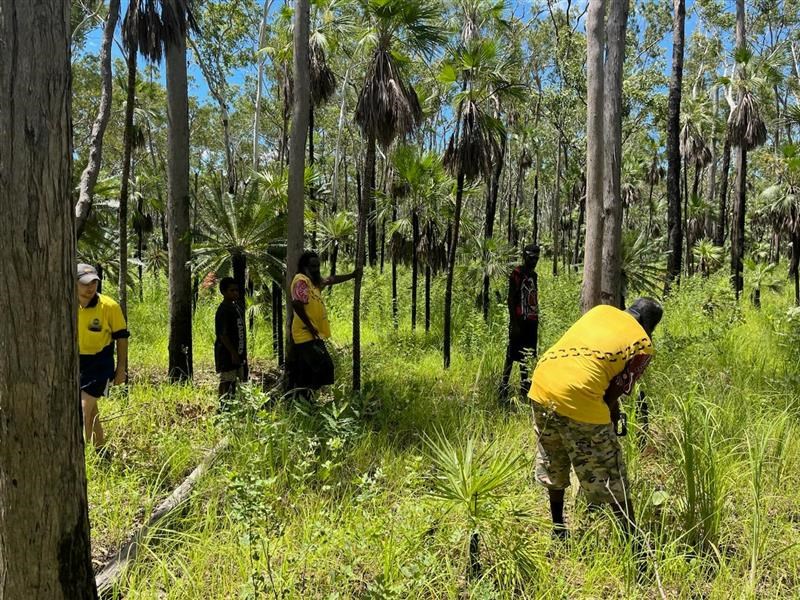 The young and the old fellas came together to share experiences and learning. The timber that was collected will go into the Men's Shed to be trans-formed into didgeridoos.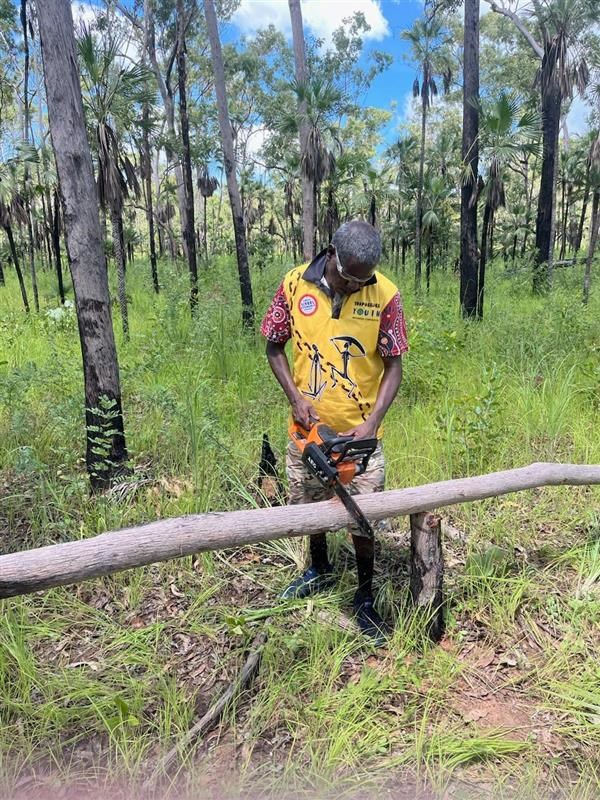 AEC in Wadeye 13th – 17th February
The Australian Electoral Commission (AEC) community engagement team will be in Wadeye from the 13th to the 17th February with a roadshow of com-munity services , and to support com-munity members to enrol to vote.
The team will be accompanied by representatives from Births Deaths and Marriages, to provide a service for people to get their birth certificates. They are also offering Drive Safe courses which is a driver education training and licensing program to assist people get their 'L" s and drivers licenses.
The group will be operating out of the Wadeye Court House on a walk-in basis. Please spread the word to people who need Birth Certificates and Drivers licenses. Not having birth certificates and drivers' licenses is a real obstacle to obtaining employment and this is a unique opportunity to overcome these obstacles so please let everyone know.
Mystery Satellite Tag Washed Up
Western Australia's Department of Primary Industries and Regional Development recently reached out to the Thamarrurr rangers to assist them in finding a satellite tag that was identified as recently being washed up on Thamarrurr sea country.
The Rangers followed the G.P.S mark and travelled over two hours by boat in poor conditions.
"We went out to Cape Scott to look for this tracking device and we found it successfully. It was attached to a sawfish. We don't know what happened to the sawfish!" said Christine Tchemjiri from Thamarrurr rangers.
It is not yet known what the mystery tag was tracking but we will keep you updated as more information comes to light.
Collecting Natural Materials
The women from the women's Centre went on an excursion out bush to collect roots and plants for dyeing and sand palms for weaving.
Weaving represents a journey to re-connect with ancestors and heritage and the women all enjoyed the day out on country. A big thanks to Carla for working with the women to make this happen. Carla is leaving TDC but will still be working in community, which is great for community. We wish Carla all the very best in her new role. #GoodLuckCarla#
Big Numbers for Bingo
Bingo in Manthape has been attracting big numbers, as the women all enjoy coming together for the excitement of winning a prize.
The women all take turns in calling the numbers and don't participate in the game when calling, to make it fair.
Palumpa Resource Centre Back Up and Running
Jo and Liam have settled into Palumpa and have got the Resource Centre looking alive again.
There has been a lot of turbulence in keeping activities running in Palumpa, with staff turnover a major issue. It is great to have Liam and Jo on the team and we look forward to seeing activities running again in Palumpa.
Farewell to Ranger Interns
The Thamarrurr Rangers said a big farewell to interns Hemraj and Karolina who have spent the last six weeks living and working in Wadeye with the rangers.
It was a big week for the rangers as they headed out to Kardu Thithay bush camp at Da Kunhpinhi, and to Ditchi to clean up rubbish followed by fishing.
The group pulled out all available mowers to tackle the long grass, but will have to head back with a bigger beast to get on top of the overgrowth.
The group pulled out all available mowers to tackle the long grass but will have to head back with a bigger beast to get on top of the overgrowth.