Our Mission at TDC is to develop all commercial opportunities on behalf of the clan members throughout the Region to advance our key aims of providing local jobs for local people and, in the long term, ensuring every child has a chance of a full life.
Environmental Health Conference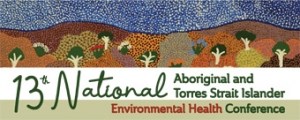 Agatha and Cindy attended the National Aboriginal and Torres Strait Islander Environmental Health Conference in Darwin this week on behalf of Healthy Homes.
The aim of these national conferences is to increase the understanding and awareness of environmental health issues in Aboriginal and Torres Strait Islander communities, with a key focus on Aboriginal and Torres Strait Islander environmental health practitioners.
The conference provides delegates with the opportunity to hear and view presentations, from a variety of environmental health practitioners from across Australia, that highlight the programs and activities being undertaken in their own settings and the challenges faced in striving to achieve positive health outcomes.