Our Mission at TDC is to develop all commercial opportunities on behalf of the clan members throughout the Region to advance our key aims of providing local jobs for local people and, in the long term, ensuring every child has a chance of a full life.
Land Access and Permits
The Traditional Owners as custodians of the land, are concerned that people (TDC employees) are moving through country without checking with them first.
You must have a permit from the Traditional Owners to enter their land. It is an offence under the Aboriginal Land Rights Act to enter Aboriginal lands without permission.
All non-locals are required to have an NLC Permit to enter the community to work, but these permits do not authorize people to go into the country for recreational purposes.
To obtain permission to go into the country for recreational purposes, you must obtain permission from the Traditional Owners (TO's).
If you are not sure who the Traditional Owners of the country you are wanting permission to go on are, contact the Rangers on 89 78 2979. The Rangers cannot give you permission, but they can steer you to the right people to get permission.
When going to the country, always be mindful to collect your rubbish and all belongings when you leave, and do not leave animal carcasses lying around.
Remember, if you do get permission from the TO's to go to the country, please ensure that you follow the instructions they give you.
Crocodiles in the Sh#t
The Rangers caught a big crocodile in the Wadeye sewage pit this week and have relocated him to a more appropriate location. We are not sure why this fella chose this location as a choice place to hang out, but we hope he is happier not swimming around in a poo pit! This serves as a stark reminder that crocodiles are around and can be anywhere there is water.
Post Office Trading Hours
The change in hours is to enable the Post Office team to have a break, and Cass Clarke and Saad Alfridi will be supporting the Post Office team while they take some time out.
We know that the lead up to Christmas can be nuts for the Post Office, so it is important that the team have a break before it gets too crazy.
Flash Table Upgrade in Aged Care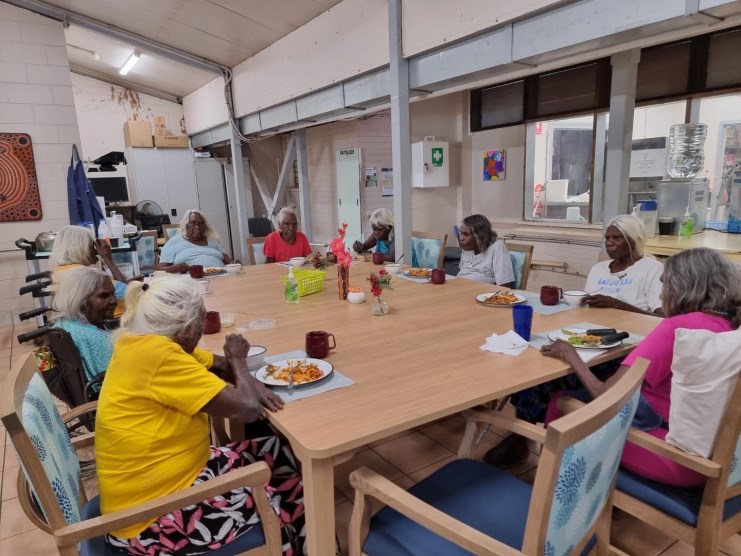 The ladies enjoyed their first lunch on the new dining table this week, with new furniture arriving to brighten up the Aged Care facility. The ladies are all very happy with the new furniture.
EASA Counsellors in Wadeye
Ian and Sophie from EASA met with our team at their site locations this week, to open the conversation about resilience and mental health.
The TDC team have been under a lot of stress this whole year, with the first COVID outbreak in the middle of a week-long internet and mobile outage, almost immediately followed by the start of the unrest.
Our team are encouraged to reach out for a yarn with EASA counsellors, who have some great tools for managing stress. If you didn't get a chance to talk to them this week and would
Men's Shed Welcoming
The men have been busy, beatifying the garden and walkway this week.
They have been creating what will become a nice, welcoming green space for all visitors and attendees in this area.
Entry to the Men's Shed will now be via the first gate as you approach whilst coming down the hill.
If you wish to park in the work yard compound, please let us know and we will let you in. This will be reassessed once the wet season commences, and we can clearly see what the storm water run-off is going to do at that entrance.
The men look forward to seeing everybody down in the Men's Shed checking out all the wonderful art that is being created daily. They will be hosting an open day in the coming weeks. Great work guys, we can't wait to come down and have a look!
Kids on Bikes Take Over Wadeye
It was great to see the kids out and about on bikes this week, with Thamarrurr Youth running bike activities in the school holidays.
The kids went out on country and did some bush riding before taking a break at a family home and then heading back into town.
A big thanks to the Thamarrurr Youth Team for all the hard work you are doing in the school holidays.
We bumped into this mob (below) heading back into town, and they were all having a fantastic time belting along the road on the new bikes.
Kakadu Plum Serum Making
The Kakadu Plum ladies all headed to Darwin this week to attend workshops to learn how to extract serum from the Kakadu Plum.
The serum is highly sought after and is used in beauty products and health foods.
Being a rich source of Vitamin C, Kakadu plums form an important ingredient in many skin care creams, masks and lotions. Using it makes your skin glow naturally.
We found out this week that is it widely used by Asian women to make skin whiter.
The ladies had a few requests from Wadeye to make an anti-aging serum, but we have established that we simply cannot harvest enough plum in our lifetime to solve the aging problems of the women working in Wadeye!
Thank you to Chris Brady for organizing these workshops. It is great to see the progress being made to value add to the Kakadu Plum being harvested from the Thamarrurr Region.
We look forward to seeing all the exciting product developments.