Our Mission at TDC is to develop all commercial opportunities on behalf of the clan members throughout the Region to advance our key aims of providing local jobs for local people and, in the long term, ensuring every child has a chance of a full life.
Colour Story Coming to Life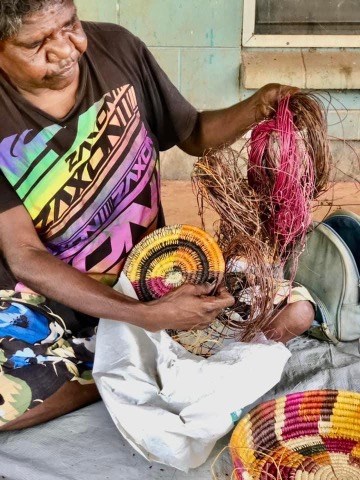 The ladies of Emu Point & Wudikalpidyerr continue to work on the "Colour Story" as their CDP activity.
It was a busy few days as they collected the plants that produce the vibrant colours, dyed, painted and screened silk fabric, some of which is already made into scarves and kaftans.
After producing the fabric, sewing lessons were next and even the men of Wudikalpidyerr were keen to have a go.
A cohort of ladies will be travelling to the Margaret River later this month, to be part of their "Colour Story" exhibition at the gallery at Mr Barval Winery.
The ladies will share their knowledge and demonstrate and showcase their weaving and bush colour skills in workshops on offer to the public. Thamarrurr will be represented by women from Emu Point, Wudi, Merrepen and hopefully Wadeye. We look forward to bringing you more stories on the "Colour Story" project as it continues to grow.