Our Mission at TDC is to develop all commercial opportunities on behalf of the clan members throughout the Region to advance our key aims of providing local jobs for local people and, in the long term, ensuring every child has a chance of a full life.
Rangers Build Foundation Skills
The Batchelor Institute has been delivering training to the Rangers to develop the foundation skills needed for ranger work and training.
The Rangers have been building on numeracy skills needed for jobs like mixing fuel and chemicals, reading gauges and measuring equipment, and planning work.
The group has also been practicing digital skills including using Google Earth to make tracks for fire mapping and using iPad apps for recording and re-porting biosecurity information.
A big thanks to Batchelor Institute for working with our Rangers. Check out the VET courses on their website.
Bike Riders Take Over Town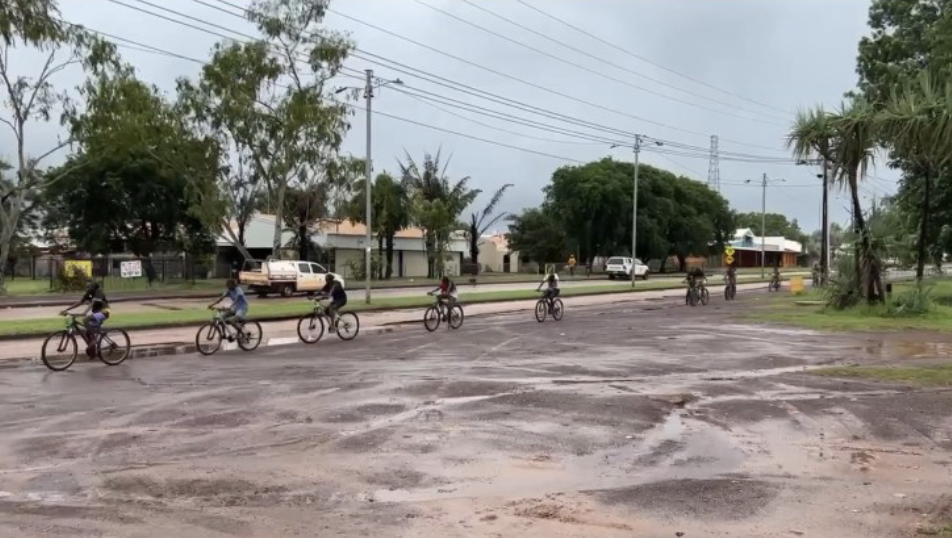 Thamarrurr Youth ran an all day bike program for the school this week with over 150 students participating in a mountain bike ride.
TY are training and developing a Wadeye Mountain Bike Team to compete at a National Cross-Country Event in the Margaret River in WA this year, and we are all super excited about that.
The Wadeye Mountain Bike project is a collaboration between TDC & TY and is funded by Stronger Communities for Children. The aim of the program is to encourage young people to participate in healthy recreational activities.
Wadeye Sewing Sisters
Sister Buffalo have been working with the women of Wadeye, teaching them how to use sewing patterns this week, to whip up some yappa skirts for daily wear.
The women had some healthy snacks and also made matching scrunchies and bags. The women had a really enjoyable two days at the Women's Centre. Check out the fashion parade video on the link Wadeye Strong Women . Uptown Girl was the chosen song of the day by the women as they paraded their new skirts.
Aged Care Special Performance
Wadeye is full of hidden talent, and the ladies in the Aged Care facility were pleasantly surprised when a tradie doing work there, broke out into song. Neil who is working with Housing & Construction, delivered an impromptu performance with the residents.
Neil sang Slim Dusty, Elvis and even his own songs he has written himself. Neil performs at aged care's in Queensland, so the ladies were very lucky to see his performance and they absolutely loved it.
Delivering Mobility Equipment
The Aged Care team have been busy delivering mobility equipment to community clients.
The equipment provides enhanced safety and independence by reducing the risk of falls and allow-ing users to mobilise without the assistance of a carer. They are also very excited and grateful to have sourced two new vehicles to deliver services.
Floods Cause Havoc For Palumpa
Palumpa was thrown into chaos this week, with severe weather flooding out large areas of the town.
The TDC resource centre , the school and West Daly buildings were all under water and all personnel were on standby for potential evacuation orders.
Our local heroes Jo & Liam were kept busy ferrying people to high ground and helping with food distribution.
A massive thank you to Jo & Liam who declined evacuation assistance, to stay and help the community.
Crocodiles Moving Around
There have been a number of sightings of large crocodiles around popular swimming holes in Wadeye and on the road to Manthape this week . The Rangers and Marda Pek Pek have been putting up signs to warn people , but cannot get to all water holes and risky locations. Just a reminder that crocodiles are moving around and everyone needs to remain vigilant near water.
Community Work Experience
New Future It is an Indigenous owned IT business that provides services to many organisations in Wadeye. They are looking for people in community who are interested in doing work experience. The goal of the program is to have young people stay in their community and be employed by New Future IT to deliver services in the community. There are multiple steps to achieving this goal:
– Provide Work experience to young people who have been identified by community stakeholders as suitable
– From this work experience identify people that show an interest and aptitude and have potential to undertake a training program
– The community stakeholder and New Future IT work together to arrange the delivery of the Google ICT Sup-port Professional course online in the community
– On completion the trainee is em-ployed by New Future IT and delivers onsite IT service in the community.
If you know anyone that might be interested and suitable for this program please contact NFIT on 1300 861 477 or letsdothis@newfutureit.com.au .