Our Mission at TDC is to develop all commercial opportunities on behalf of the clan members throughout the Region to advance our key aims of providing local jobs for local people and, in the long term, ensuring every child has a chance of a full life.
CDP Forum in Wadeye
A big thank you to Lynne Jackson and the CDP Team for bringing internal and external stakeholders together to try and bridge the communication gaps around CDP. Thank you also to all the attendees who took time out of their busy schedules to participate and con-tribute to the discussions.
The aim of the CDP Conference was to bring stakeholders, the team and activity hosts together, to gain a better understanding of what is currently happening, what is being proposed and what's possible.
There are some big changes coming into the CDP space, with the Federal Government announcing that they are introducing a new remote jobs pro-gram, replacing the Community Development Program (CDP). The government is looking for new and innovative ideas to improve participation in employment programs and get people job-ready to take up opportunities when they present themselves.
Salt Bush Enterprise Visit Wadeye
Yvonne Webb and Sitela Newman from Salt Bush Social Enterprises visited Wadeye this week to meet with community and present at the CDP forum.
NIAA is exploring new initiatives for place-based solutions to support sustainable employment for First Nations job seekers and Saltbush has been invited to see what might work across the Top End.
This is separate to the review of CDP and is related to the Indigenous Skills and Employment Program announced early last year. (ISEP)
The ladies met with interested groups to discuss sustainable employment solutions. "Rather than think we know what solutions might be, we want to learn and determine how to work better with those who are impacted; job seekers, families and employers" explained Yvonne. The ladies took some time out to cook up a BBQ with the Marda Pek Pek group at Top Office.
OrangeSky Improving Safety
Sophia Kundjil and the orange sky team have been out and about in community-ty, and have put a safety barrier around the operating space to make things a bit safer. The area around the truck can get very busy, so a barrier will help stop accidental traffic wandering through. #GreatWorkOSTeam#
NDIS Community Connector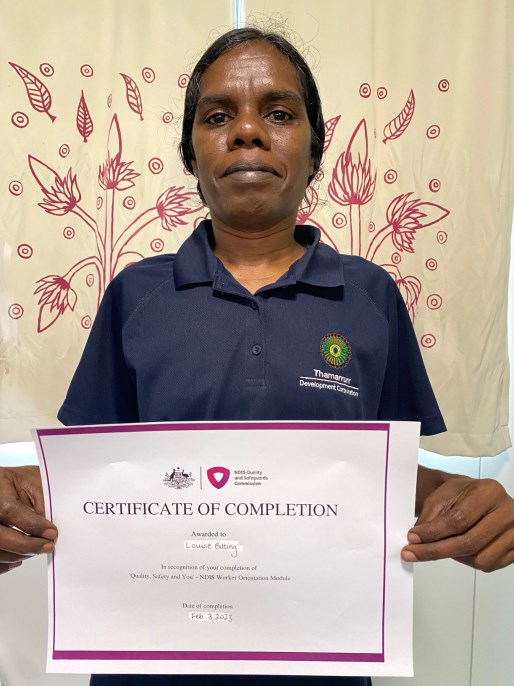 Louise Bitting has started with the NDIS team as a remote community connector. She is doing an amazing job so far. Louise has been busy on the computer doing her online NDIS modules, and received her certificate of completion this week. It is great to see local Kardu working in this space. #KarduCaringforKardu#
Rangers Tackling Wet & Weeds
The wet roads have been playing havoc for the Rangers as they continue to work on protecting our unique environment.
The Rangers play a crucial role in protecting the natural landscape from invasive species and have been busy working with the helicopter pilots to spray mimosa.
Mimosa Pigra is a Weed of National Significance (WONS) and a declared pest. It is one of Australia's worst invasive species and has caused great environmental damage in the Northern Territory. #GreatWorkRangers#
Workshop Heroes Keeping the Wheels Turning in Wadeye
The team at the workshop continue to operate under the pump, and the pressure doesn't look to be easing off any time soon.
This week they have been busy getting the CDP Palumpa Troopy ready for Liam & Jo, who arrived in Wadeye last week. A big shout out to our workshop mechanics, who are our unsung heroes, as they work relentlessly to keep the wheels turning in Wadeye while plagued with ongoing staffing shortages.
Men's Shed Art Gallery Open for Business
The Men at the Men's Shed would like to remind everybody that the art gallery in the shed is open to visitors.
The gallery is open from 8am – 4pm, but if you can't get there in those hours, just give Rob a call and he can arrange a mutually suitable time.
The Men have done some major re-arranging to make designated walkways for visitor safety, and the gallery has had an overhaul to make it more visitor friendly. If you haven't seen the gallery recently, pop down and have a look, it is looking fantastic.
First Aid Training for Rangers
The Rangers had First Aid training this week and it was great to see so many attendees. First Aid certificates (previously known as Apply First Aid or Senior First Aid) are valid for three (3) years. However, the CPR component needs to be updated annually to keep your certification current.
Marda Pek Pek Working Group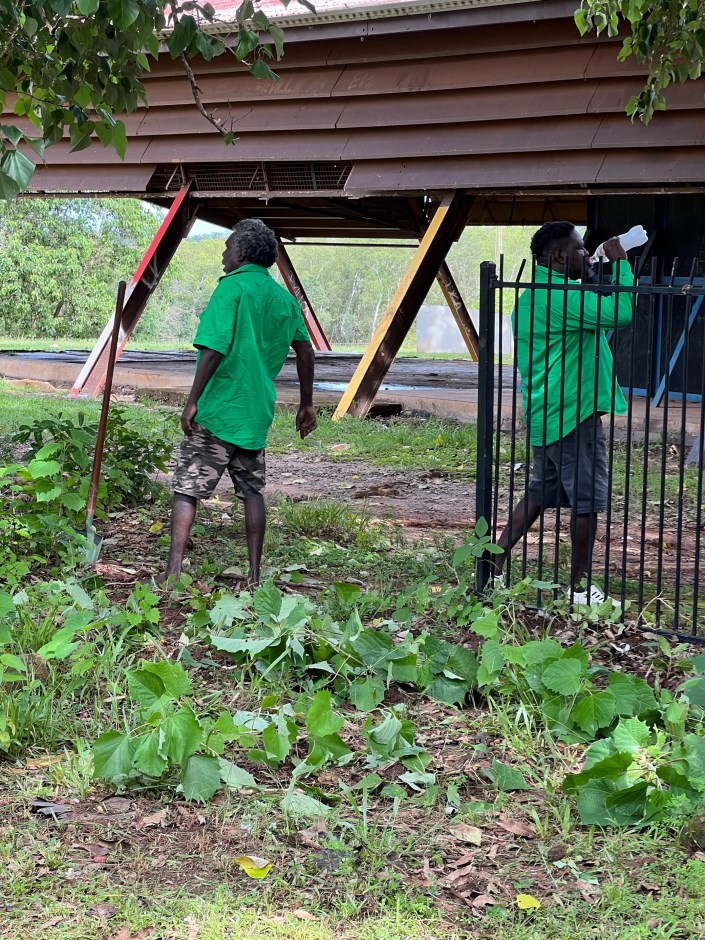 The Marda Pek Pek community group all pulled together to support the PWAC women by cleaning up the PWAC T-House yard and surrounds.
The group also spent some time working with Sorell and Scott on bringing some structure to the group.
They also met with Salt Bush Social enterprise to contribute to the discussion on what sustainable employment in community looks like.