Our Mission at TDC is to develop all commercial opportunities on behalf of the clan members throughout the Region to advance our key aims of providing local jobs for local people and, in the long term, ensuring every child has a chance of a full life.
CEO Message – Scott McIntyre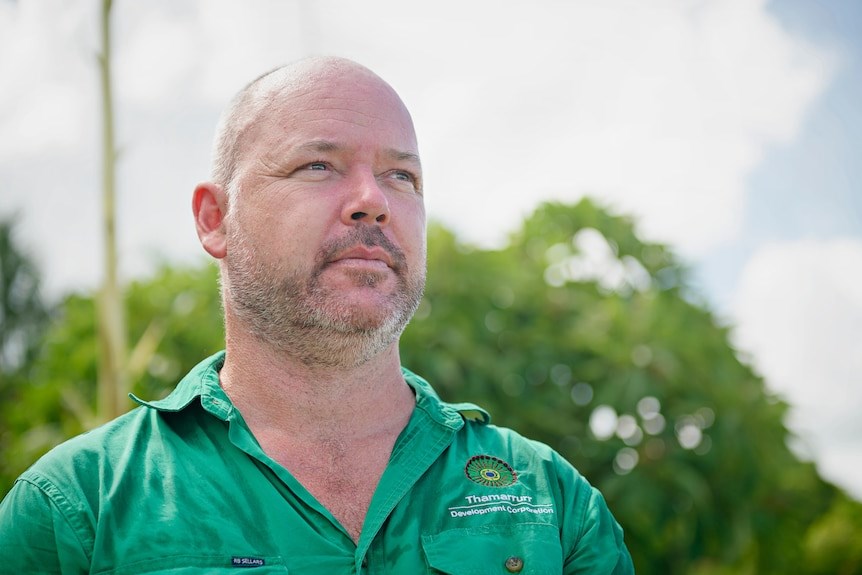 This week we were able to have our first formal Board meetings for the year. With all the disruptions of COVID and then the community unrest things just have not worked out.
But this week we had two great sessions with good turn out and lots of decisions made.
One session was conducted at Manthathpe on Wednesday, with a second one under the Old Club on Thursday.
The Board talked about a heap of things and made good decisions about everything from staff accommodation through to the future of Homelands and Aged Care services.
Every time we get together as a group, we find a lot of positive energy and strength from leaders who appreciate the opportunity to make decisions about their business.
This will be the first of what we hope to be many meetings this year as we get back to business. Have a great week ahead and see you around.
Cheers Scott
Women's Centre News
The Women's Centre has been making art and cleaning packs to take home and out to homelands. Let us know if you or anyone you know would like one. Wendy has been working on a new boab nut collection. They are stunning and both for sale! Wendy learns boab nut carving from her mother and is now passing on the knowledge to her daughters and other activity participants at the women's Centre.
Virginia has been training and learning new computer skills this week. She has been sending emails independently and learning to complete timesheets on SharePoint. #Great job Virginia#
Aged Care Ladies Adventure Day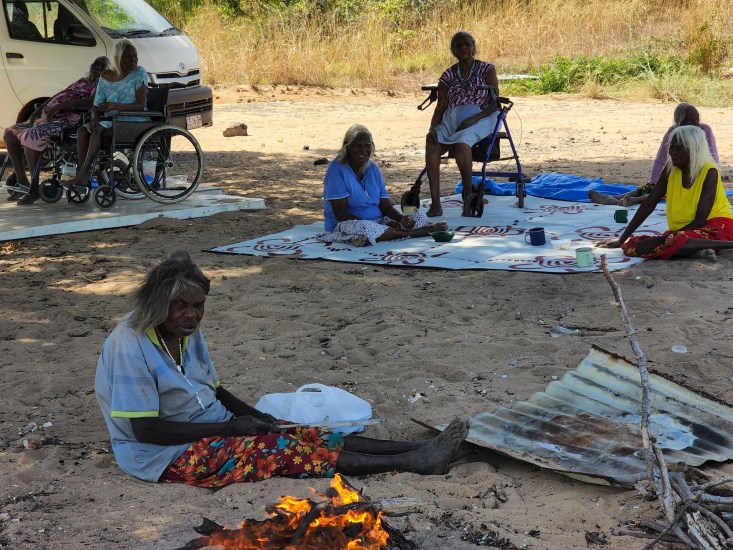 A group of the aged care ladies went for an outing to Phyllis's homeland – "Yuloo", near Little Tjhindi. They loved the fresh air, sand exploring for turtle eggs and lighting a fire.
It is great to see the ladies in such high spirits, going on an adventure, enjoying the beach and each other's company.
Rangers Keeping Green
Neil was doing his bit to keep the Rangers Yard looking lush and green this week.
As the town browns up with the cold dry weather, the Ranger station looks like an oasis in the desert! #Great Job Neil#
Housing & Construction on Fire
The housing & construction team are on fire, smashing through the work to get the new builds completed.
The houses look amazing, and the fellas look pleased with themselves as they look over their work. The boys have been working from dawn until dusk to get all the work done. A big shout out to H&C for all their hard work and effort.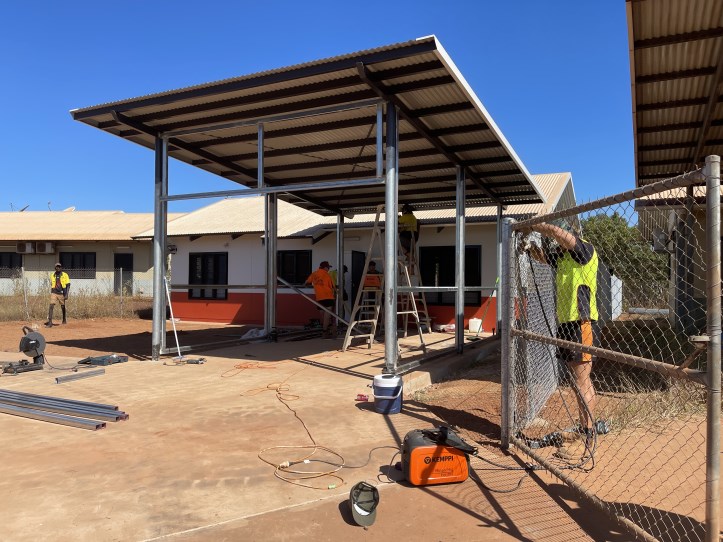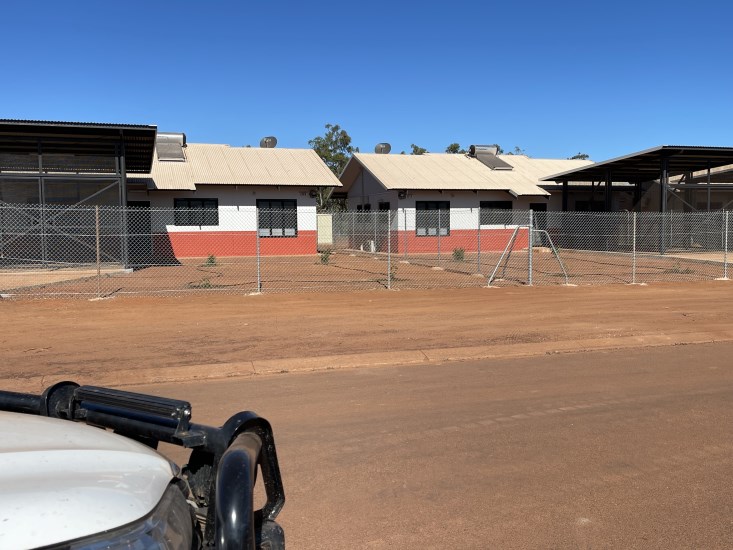 Cleaning Team Hits Palumpa
The Village cleaning team were all smiles cleaning over in Palumpa this week. These ladies have been doing a wonderful job keeping up with the increased number of cleaning requests!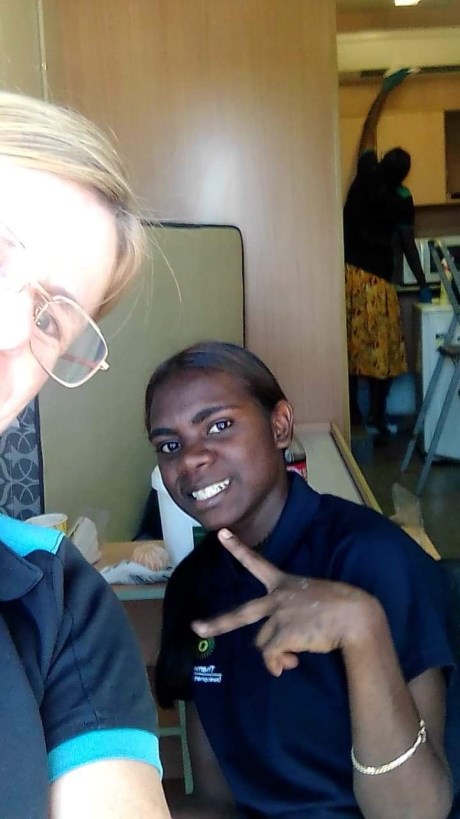 Village Landscaping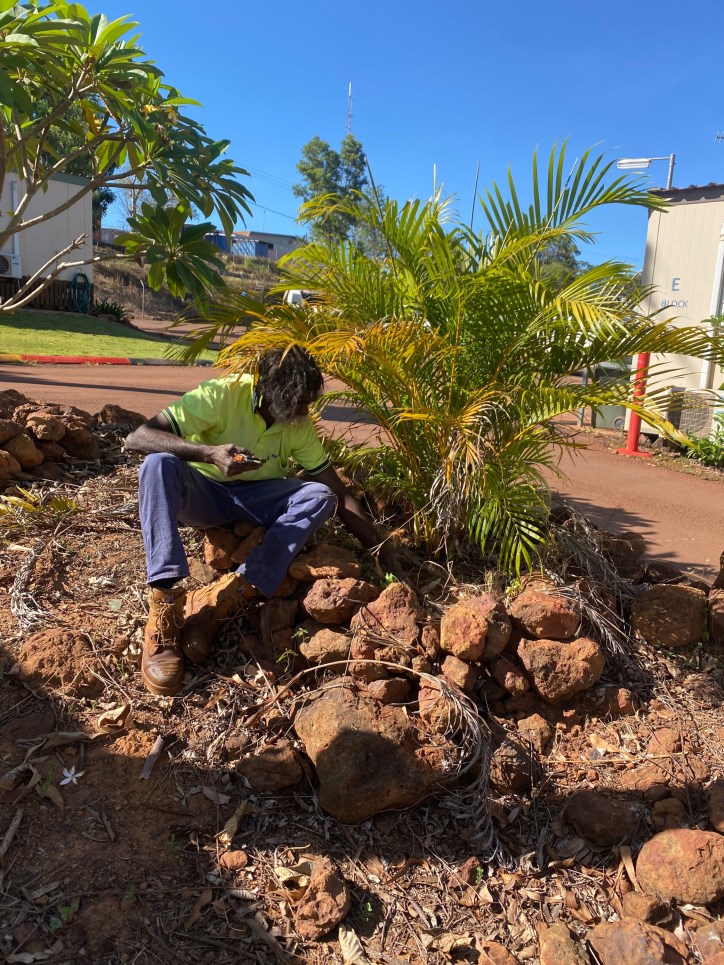 Ricky and Allan have been busy tidying up the yard and gardens, ready for some new soil and plants to give the gardens a nice freshen up.
CDP Team Goes Mobile
The CDP Team have mobilized their operations, travelling out to Kudantiga, Ngirinthi and Fossil Head doing appointments to support people who are unable to come into town. Thanks to all the CDP team for your efforts to support all your clients.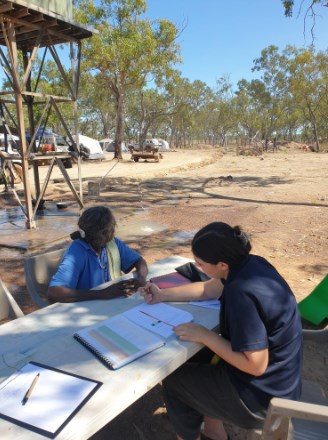 Monitoring Underwater Habitats
Thamarrurr Rangers have been involved in a joint project with the Australian Institute of Marine Science (AIMS), getting hands on experience with Baited Remote Underwater Video (BRUV) and Drop Cameras, collecting data at nearby reefs.
The Rangers collect scientific data about fish populations and organisms that inhabit the bottom of estuaries under the supervision of AIMS scientists.
Upon returning to Darwin the AIMS staff analyzed the data collected and this week they returned to do a presentation on the findings.
Monitoring the health of local underwater habitats is fascinating and important work and AIMS and the Rangers will be doing the presentation at the school as well, to show how important protection our marine life is.
Recycling Team are Back
A big shout out to the recycling team who were back for business this Friday.
Although things were quiet, their enthusiasm was infectious. It is good to see some normality coming back. You can get down and see the team and turn your rubbish into $ every Friday.