Our Mission at TDC is to develop all commercial opportunities on behalf of the clan members throughout the Region to advance our key aims of providing local jobs for local people and, in the long term, ensuring every child has a chance of a full life.
CEO Message – Scott McIntyre
This week we celebrated international Nurses Day and it is timely to stop and reflect on all of the work that our nurses in the community do.
Our nurses have been at the fore-front of the COVID outbreak, they work around the clock on 24/7 shifts and when a patient dies, the nurses provide after-death care and also provide support to grieving families, who often like to participate in or carry out after-death care for the patient.
Working as a nurse is physically and emotionally demanding and many of us will never be exposed to the types of human experiences that nurses handle each and every day of their working lives. A special thank you to all of our nurses and personal care workers, and all involved in the care of people in the community.
Over the past month, all our team have been supporting the community in some way. Whether it has been keeping your business unit functioning as normally as possible, distributing food, arranging flights and accommodation, digging holes, grading roads , having cook-ups , driving people where they need to go, helping with laundry and other essential services or just lending an ear to someone who needs to talk – every bit of support helps.
Thank you to all of our team for your continued support, we hope to be get-ting back to business as usual as soon as possible but will be looking at ways we can deliver services in a more decentralized way to meet community needs and to support staff who feel threatened to return to work.
Aerial Incendiary Device Training
The Rangers did some refresher training using the Raindance aerial incendiary machine this week. This machine drops small capsules that ignite about 30 seconds after being dropped. Using this machine mounted into a helicopter helps the rangers burn in remote areas with no road access.
Aerial incendiary methods have many advantages over ground-based fire lighting such as the ability to cover large areas within a short timeframe and the obvious advantage of having a birds eye view of the task at hand. Air-borne fire lighting also results in less personnel on the fire ground.
The Rangers have to be familiar with using the machine while communicating with the pilot and navigator. To practice this, we set up our practice helicopter on the ground and took turns in the different jobs.
2022 Federal Election Voting
The 2022 Federal Election Voting teams will be in Wadeye this upcoming week.
All Managers and Supervisors are requested to remind staff and to support people with time off to go and vote.
Please see below polling both times for Wadeye
Monday 16 May 2022:
8:30-1:30 Manthathpe
2:15-3:15 Old Nillinh
4:00-5:00 New Nillinh
Tuesday 17 May 2022:
9:00-10:00 Fossil Head
11:30-1:00 Kurdantiga
3:30-4:30 Aged Care – residents only
Wednesday 18 May 2022
8:30-12:30 Wadeye Sport and Recreation Hall
1:45-5:15 Main oval
Thursday 19 May 2022
8:30-10:30 Wadeye Sport and Recreation Hall
Tents to House Displaced People
TDC worked with NTG this week to co-ordinate the purchase and delivery of 30 x 10 man tents. The tents are being funded by the NLC resilience donation , and will be distributed to local people who have been displaced by the recent unrest. A small number arrived in com-munity on Friday and the bulk will be arriving on Monday on the barge.
Mi Marral (Kakadu Plum) Harvest
Plums are getting busy, with up to 300kg harvested this week. The harvesters are operating from Monday to Thursday and are doing trips out-bush daily.
The Traditional Owners of the Thamarrurr region have picked and consumed Mi Marral (Kakadu Plum) for countless generations.
Since 2007, in line with NTG policy of the sustainable use of wildlife, aboriginal people living in and around Wadeye have been participating in a social enterprise that involves local people harvesting on their own country or country they have family connection to, and written permission of Traditional Owners to pick on.
Thamarrurr Development Corporation assists by supporting the business requirements of the commercial operation and collating, freezing and packaging the fruit for sale.
Sarah G and the TCA Team have been working on a plum harvest and invoicing tracking App to assist track the volume and location of the harvest and invoicing and payment to the harvesters.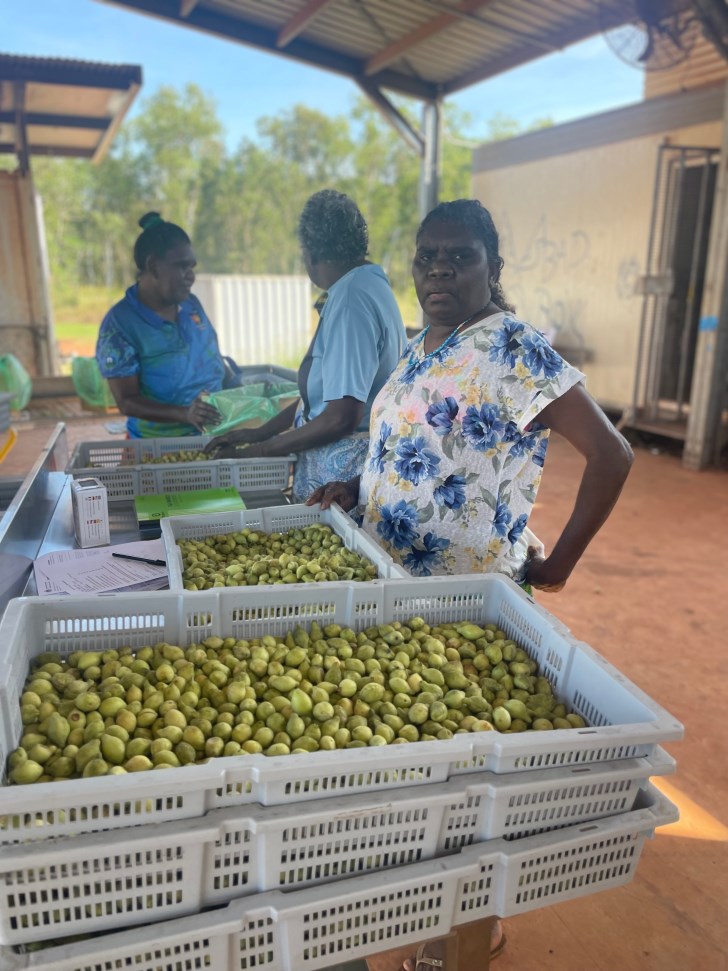 International Nurses Day
The Aged Care staff and clients celebrated international nurses' day on Thursday 12th May. Christine, pictured below, said a thank you to all our nurses, on behalf of all the community clients.
International Nurses Day is celebrated around the world every May 12, the anniversary of Florence Nightingale's birth. Florence Nightingale is recognized as the founder of modern nursing; she provided vital support to soldiers and emphasized the need for cleanliness and proper sanitary conditions to create a safer environment for patients and to aid in their faster recovery.
The global theme for International Nurses Day for 2022 is: Nurses: A Voice to Lead – Invest in nursing and respect rights to secure global health, focusing on the need to protect, support and invest in the nursing profession to strengthen health systems around the world.
Our nurses do an amazing, and often thank less job, and are at the cold face of the best and worst of human experiences. Thank you to all our nurses who put such care into their patients.
Happy Birthday Taryn
It was a dual celebration in the Aged Care Centre, with Taryn celebrating her birthday.
A huge thank you to Taryn and the team for all of the work that you do in taking care of the Elderly people in Wadeye.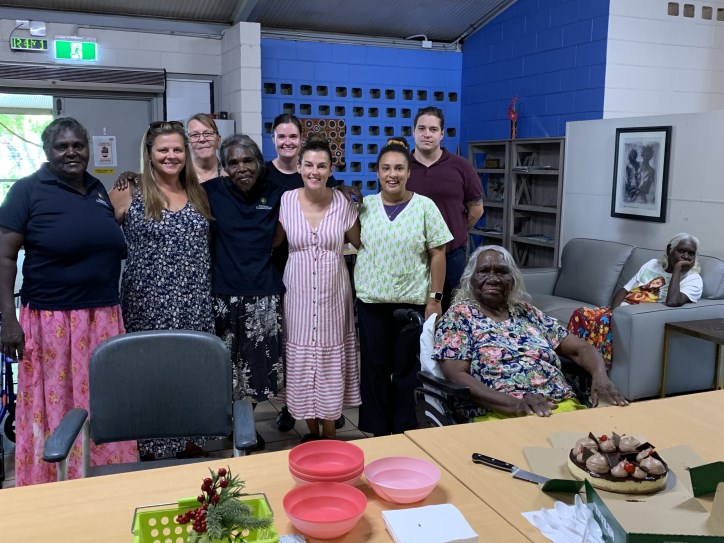 Supporting Community with Non-perishable Food Packs
Over the past few months, there have been several events where access to food has become a significant issue.
Many TDC staff have been busy shopping, and dropping food to people who cannot access food in abnormal conditions.
Having teams of people running around the shop to source food for community groups is very inefficient and expensive and some of our teams have been abused for doing this.
TDC will be trialing selling non-perishable food packs, which will be standard items, boxed and ready to go. (Replicating the most requested items in recent food drops). These will be available from next week and will replace the practice of TDC staff physically doing shopping in store.