Our Mission at TDC is to develop all commercial opportunities on behalf of the clan members throughout the Region to advance our key aims of providing local jobs for local people and, in the long term, ensuring every child has a chance of a full life.
CEO Message – Scott McIntyre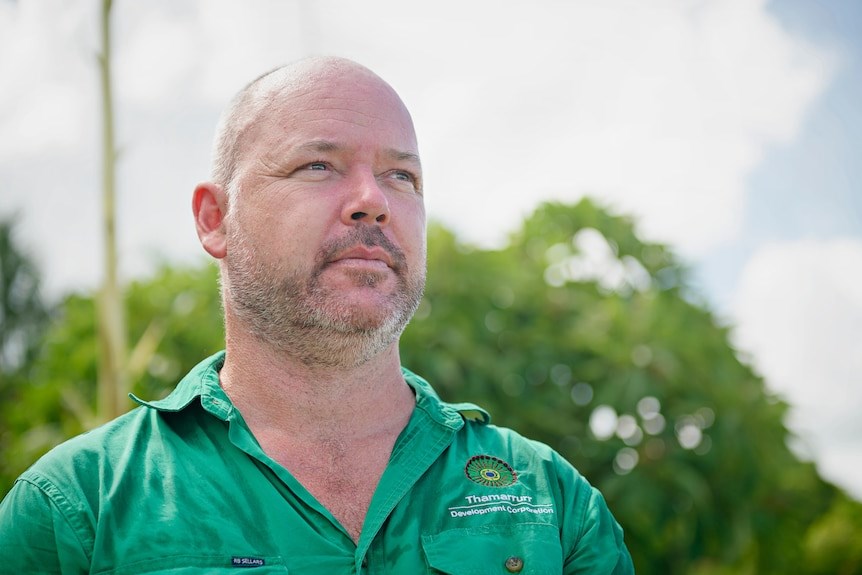 This week we got the teams together in both Darwin and Wadeye to discuss what is happening in the community, the impact on local people, our staff, the community and TDC.
While local fighting between families and sporadic periods of unrest are not unusual to Wadeye, this ongoing series of interconnected events is different than in the past. This is the first time we have really seen aggression being targeted at our staff.
As we work through and try and understand the impacts of what is happening, it is important that our team understand that the welfare of our people is our top priority.
TDC has experienced rapid growth as a business over the past years, but it is most likely that we will need to scale back down our core business, consolidate to a manageable size with the resources available and pick our battles!
We know that staffing is going to become a big issue (even bigger than before), as the nation will be competing for limited skills, particularly in the building trades sector. Flood and fire affected regions will be commencing major rebuilds at the same time as Wadeye. All we can do is identify what it is we can do, say no to what we can't do and do the very best we can.
Age Care Car Park
TDC Concreter's are hooking in at the Wadeye Aged Care facility this week to install the new car park out the back.
The Housing & Construction team have been working solidly over the past few months on GEH new buildings.
Two of the newly built houses on Airport Drive have been handed over and are looking awesome, the final two handovers will be on the 15th of this month.
Housing will then be in full flight at Nilinh, with seventeen (17) new RCH dwellings being commissioned. Any of our Kardu fellas looking for work on these projects please go down and see the friendly housing crew to get signed up. There is plenty of work coming up and great opportunities to learn new skills and get involved in community development.
Healthy Homes Out & About
Brenda Farthing and Deborah Kolum-boort have been out in community, running the healthy homes and orange sky programs, assisting a family with the cleaning of their home and providing information on the importance of keeping their house clean and blankets and clothes washed. #GoTeam#
Happy Birthday Mavis
This week the Aged Care ladies celebrated our resident Mavis Mullumbuk 79th Birthday. Happy Birthday Mavis!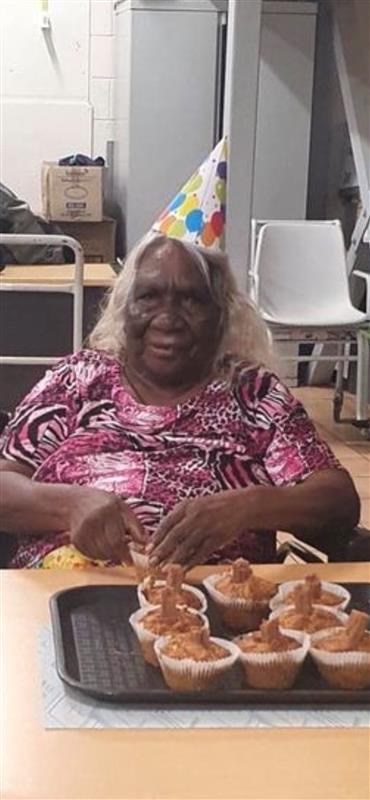 Carlene Heading Off
This week we said farewell to one our registered nurses Carlene Cazueneuve.
A big thank you to Carlene for all of your hard work and care for our patients over the past nine months. We wish her all the very best in her future endeavors.
Bear Brings Smiles
This week Mark & Tracey visited the camps around the region to do a visual assessment and gain a better understanding of the needs and wellbeing of the people staying in camps. Accompanied by Bear, who became the unexpected star of the show as the kids lined up to get their photos taken and have a 'Bear Hug".
Emu Point Art Program
Lynne Jackson and Anna Reynolds are heading out to Emu Point this weekend to commence the women's art program with the women in Emu Point.
Anna bumped into a couple of local lads in Darwin recently and is looking forward to working in community on the creative arts to enterprise program.
Remote Area Psychologist
Remote area psychologist Katherine Bakos will be in Wadeye next week, and is on standby to talk to local Kardu people who have been impacted by the recent spate of events.
It is recommended that the business unit managers book some time for a group session with Katherine, and then she can identify who may need to break out for one-on-one sessions. Please contact Tracey to arrange a time for Katherine to meet with your team.
Our team are also encouraged to contact EASA for individual phone counselling on 1800 193123 if you need to talk to someone more privately. This service is available to all staff and families.